How Obama Vs. Trump Celebrated Their Wedding Anniversaries Couldn't Be More Different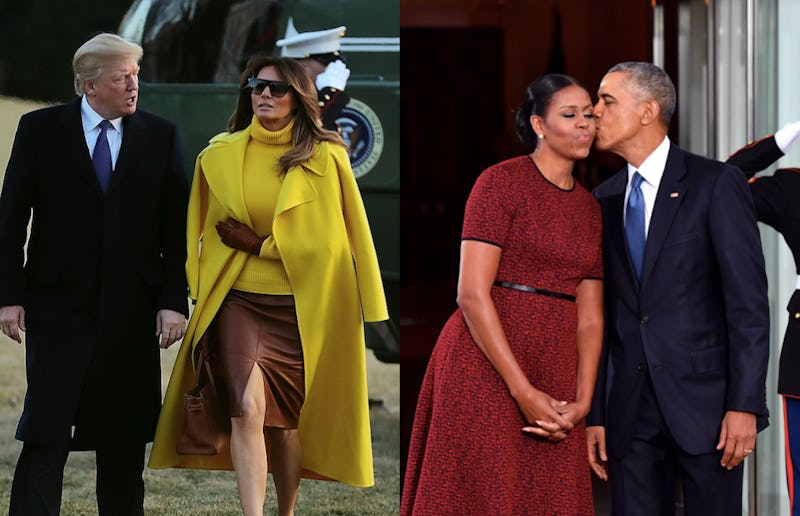 Chip Somodevilla; Pool/Getty Images News/Getty Images
Ah, love. Falling in love is always a complicated endeavor, but imagine expressing it on an international stage as president and first lady of the United States. The presidents who've cycled through the White House have publicly shown their love for their spouses in a variety of ways. For example, Donald Trump and Barack Obama have celebrated anniversaries with their wives whilst in office differently.
Donald and Melania have kept things on the lowest of keys publicly for the two anniversaries they've been together while Trump was serving as president. As CNN reported, their first anniversary came on Jan. 22, just two days after Trump was inaugurated. It was reported that Melania returned to New York at the end of the crazy weekend of presidential festivities.
Then this year for their 13th anniversary, the couple didn't post any heartfelt messages about each other on social media, nor was there a private dinner scheduled on the president's itinerary. Their spokespeople also didn't respond to media requests from publications such as CNN about how they celebrated. The anniversary also came not even a month after The Wall Street Journal broke news about an affair Trump allegedly had with porn star Stormy Daniels while Melania was pregnant with the couple's first child together, Barron Trump. Trump has vehemently denied the alleged affair.
But the hush-hush attitude of the Trumps is a drastically different than that of their predecessors, Barack and Michelle Obama. The Obamas often publicly announced their Oct. 3 anniversary with heartfelt social media posts and dinners at Washington D.C. restaurants such as Georgetown's Bourbon Steak.
Obama also frequently tweeted heartfelt messages, including one in 2015 that said, "Twenty-three years and still going strong. Here's to many more," with an photo of the couple together. The next year, he tweeted a similar sentiment with a photo of Obama kissing Michelle's cheek in front of an American flag.
And Obama got even more adorable for the couple's last anniversary, which happened to be their 25th. On that Oct. 3, Michelle's schedule was keeping her busy and she was with producer extraordinaire Shonda Rhimes at the Pennsylvania Conference for Women in Philadelphia. Obama interrupted the conference with a video of himself wishing Michelle a happy anniversary, The Washington Post reported last year.
"The idea that you would put up with me for a quarter of a century is a remarkable testament to what a saintly, wonderful, patient person you are," Obama said in the video. "It's no wonder that as people got to know you the way that I got to know you, that they fell in love."
And although the Obamas went all out with their celebrations, it's also not totally abnormal for couples to keep their private lives private, whether they're presidents or not. According to CNN, George W. and Laura Bush celebrated their White House anniversaries with private dinners.
Some of us are more into public displays of affection than others. Whether it's a couple cuddling in the park or a president posting photos of himself looking lovestruck on social media, some of us just aren't here for it. And the current first lady could be one of those people. Melania's a notoriously private person for someone who lives in the spotlight, as outlets such as Vanity Fair have reported.
That said, the Trumps had a particularly sumptuous wedding back in 2005, with a guest list that included Anna Wintour, Hillary and Bill Clinton, and Billy Joel, according to The Hollywood Reporter. They also rocked out on their 10th anniversary — emphasis on the rock. Melania received a 25-carat diamond ring from the now-president for the occasion, according to a 2016 Harper's Bazaar profile on Melania.
Public declarations of love aren't for everyone and figuring out the best way to show affection on an anniversary can be stressful. Who knows, maybe our only two single presidents in history, James Buchanan and Grover Cleveland, lucked out by not having to celebrate in the public eye.