Here's How Many Times A Week You Should See Each Other When You First Start Dating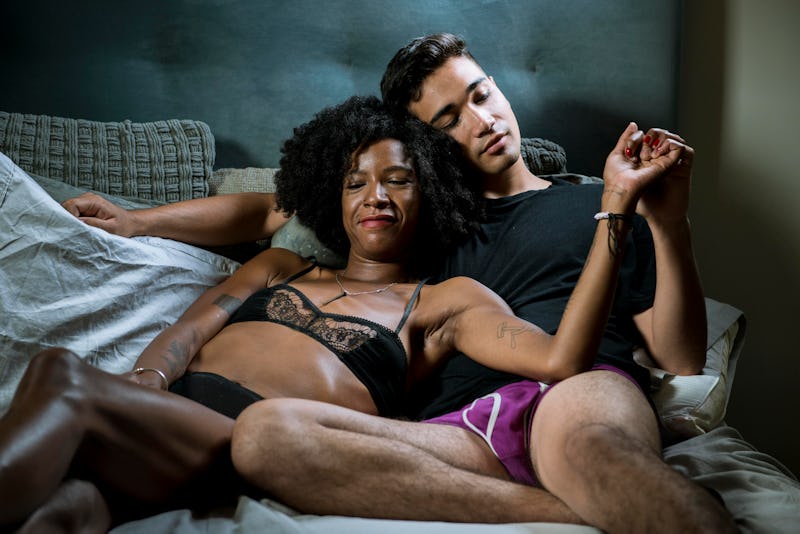 BDG Media, Inc.
How much time you spend together when you first start dating is a hot topic of debate in my friendship group. Even though I appreciate that everyone is different, I'm always in the camp of not seeing each other too much, so you don't fall into a love bubble and get an unrealistic sense of someone. But some of my friends started spending five nights a week together with people they were dating — right from the very first date. Each option has their pros and cons. I've been told that I seem unavailable or not very interested, while some of my friends have come across as needy. It's a hard balance to strike. So, is there a right answer?
Well, licensed clinical psychologist Seth Meyers thinks so. He recently wrote in Psychology Today in favor of "the once-a-week rule for new relationships". Which is pretty much what it sounds like: you start out seeing each other only once a week, then slowly build up. He explains: "To naysayers who say that new lovers should throw caution to the wind and let things flow organically, I would respond by saying that two people who are meant to be together will end up together, regardless of whether they see each other once a week or five times a week. To be safe, couples would serve themselves well to see each other once a week for the first month, and then increase the frequency with each week after that point. Most importantly, men and women should not feel anxious or rushed in forging a new relationship. The less anxious they feel, the better chance the relationship has of lasting."
It makes a lot of sense. Here are some reasons why the once-a-week rule is one to live by — or at least one to consider.
You Can Bond Too Quickly
That spark when you first meet someone who you click with can be totally intoxicating, but you don't want the bond to form too quickly. "When you meet someone you like and feel attracted to, it is perfectly normal to want to see that person all the time," Meyers writes. "But simply wanting something, of course, does not necessarily mean that it is good for you. If you meet someone you like and spend several nights together in the first week, or spend multiple hours with them over the course of several days, you will typically start feeling a sense of intense emotional closeness. But when you stop to think about it, does it make sense to feel emotionally close to someone you've just met? The problem with this dynamic is that seeing each other too frequently in the very beginning forges an illusion of intimacy and dependence, even though each person truly knows that it takes months — or even years — to truly get to know someone."
You hardly know someone, yet you're developing an emotional dependency on them — that's a scary thought.
You're Getting A Warped View
And it's not just that you're becoming dependent on them, it's that you're becoming dependent on a particular version of them, the one that you meet when you first start dating. "When you first meet someone, the information you begin to acquire is over-emphasized," Anita A. Chlipala, LMFT, and author of First Comes Us: The Busy Couple's Guide to Lasting Love tells Bustle. "You don't have much to go on in the beginning, so the actions your date takes or the details they give you take on more significance.
In a long-term relationship, you've spent more time with someone and you have a bigger context into which to put their behaviors and quirks." So if you spend too much time together, you take the few bits that you know about the person and then just project what you want to onto the rest. Then you fall for that person, before you learn who they really are.
You Can Get Into A Commitment That You Don't Really Want
The really worrying part of all this is not just falling for someone, but potentially committing to someone before you actually have gotten to know them. "Believe it or not, commitment is the one thing that you should never rush in a relationship," dating expert Noah Van Hochman tells Bustle. "...you should take your time before your actions signify that the person you are with is without a doubt the one you envision your future with. Let things happen at their own pace and don't push anything that may take time." When you're spending a lot of time together, that's difficult to do. I've seen friends get into relationships because it just seems like the default after they've been seeing someone three times a week for a month — but you don't want to commit to something just because of a default.
I'm always wary of hard and fast rules, because there are always exceptions. But, as a guideline, once a week makes a lot of sense. It allows you to make sure you really get to know the person you're falling for and, more importantly, can stop you from running into a commitment you'll regret.