Get Ready USA, Meghan Markle Might Be Heading Home Sooner Than You'd Think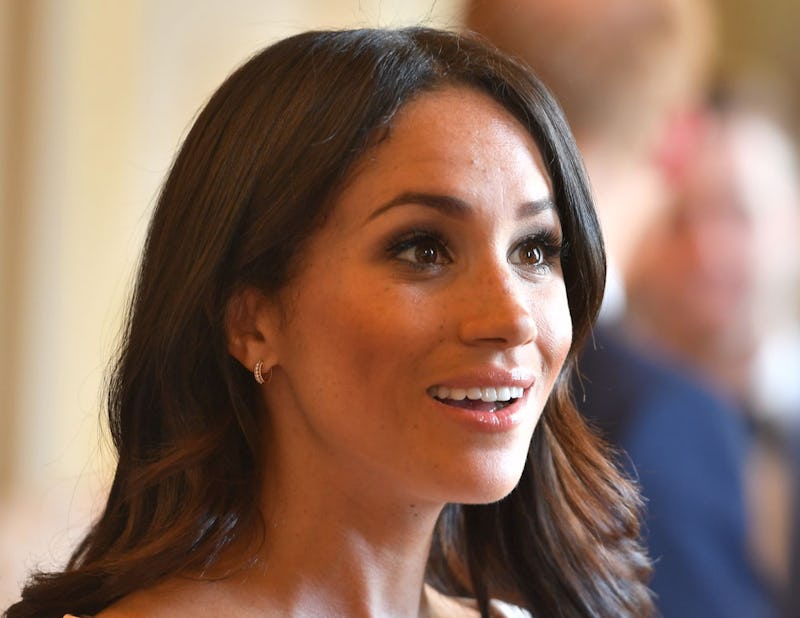 WPA Pool/Getty Images News/Getty Images
Getting married to Prince Harry means many things: having an actual palace to call home, sleepovers with the Queen, and owning a wardrobe more expensive than your average house. It also, though, poses a question for the newly appointed Duchess of Sussex: how often will Meghan Markle get to visit America to see friends and family now that she's a royal?
Markle had to apply for a UK visa, which she did before her wedding, according to People, to ultimately make her a UK citizen. Prince Harry's communication's secretary, Jason Knauf, told the BBC, "she intends to become a UK citizen and will go through the process of that, which some of you may know takes a number of years." However, according to TIME, if Markle stays a US citizen, she will still have to pay taxes there, which could have implications for the royal family. It is thought she may give it up, but this isn't confirmed.
If she does remain a US citizen, she can visit, in theory, as much as she likes. But taking into account royal duties and her role here, I can't imagine this will be all that often. Although her mum does live in the States, Markle is now part of the British royal family, and must be seen fulfilling duties here rather than in America. However, should she choose to give up citizenship, it means she'll be treated like a tourist when she visits the States, meaning she cant stay in America any longer than 90 days in a row and no more than 180 days per year. Either way, Markle wouldn't want or need that many days in the US, so I can't see that being a problem. It's more a question of protocol.
Richard Fitzwilliams is a royal commentator. The first thing he notes is we are in unchartered territory, with Markle being the first American princess. He's also clear that nobody knows what she will do, and may never know the details. "She could easily pop over to America and we wouldn't know. We don't know what happens in the royal goldfish bowl," he tells me.
That said, he thinks it's possible Harry and Markle will take advantage of their links to the States. "Harry is patron of Walk of America, where military veterans walk across the US this summer," Fitzwilliams tells me. "It finishes in New York on September 6, and there is a possibility Harry and Markle could attach a trip to that." He goes on to explain that visiting America is actually a priority because of the huge interest in the royals over there. "There is total fascination with the first American princess. Americans want to see her, and she will want to go home for a visit. I could see them possibly doing a tour of several cities like New York and Los Angeles, her home." This could possibly be before the Invictus Games in Sydney this October.
Fitzwilliams also points out that Canada has been Markle's home recently (while she was filming Suits) and visiting is important: the Queen has been there more than any other country and there's significant Commonwealth connections. Once in Canada, visiting America is easy and makes a lot of sense. "There's phenomenal interest and it could boost fashion, tourism, and trade, and so on," he adds.
So, there's a lot up in the air. I can't imagine Markle flaunting her American status by heading stateside too regularly, especially as she and Harry will have events and responsibilities to attend to. That said, there isn't a rule stopping her from flying back regularly, and it could have a lot of benefit if handled well, so let's see how she faces the situation. Watch this space.