How Women-Owned Businesses Will Be Key To Puerto Rico's Economic Recovery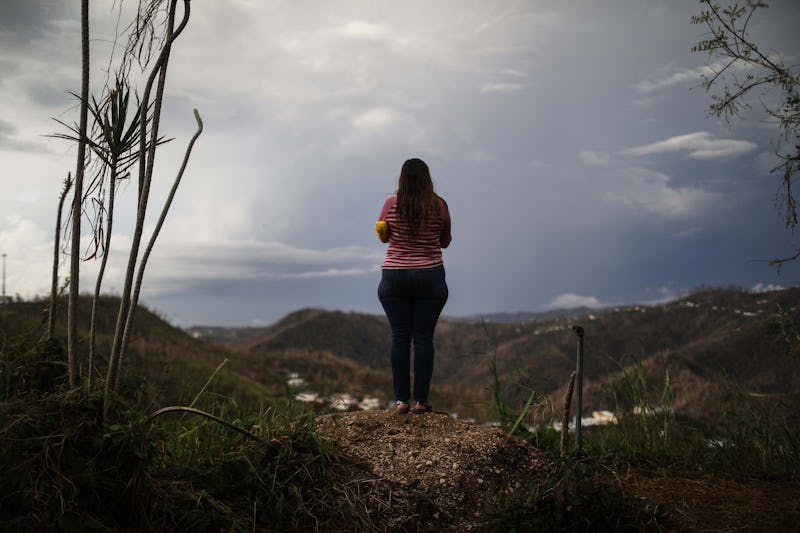 Mario Tama/Getty Images News/Getty Images
When Hurricane Maria hit Puerto Rico on Sept. 20, the island was already in the midst of an 11 year long recession. Driven by decades of financial mismanagement by local politicians and colonial policies that crippled the island's ability to manage its economic recovery, the recession found a helping hand in the hurricane, which has caused an estimated $95 billion in damage, according to CNN. As Puerto Rico, still nearly 50 percent without power, seeks to determine how its recovery will look, more and more people are finding that sustainable recovery lies with local, women-owned businesses.
After Maria, Animus co-founder Lucienne Gigante tells Bustle, "What you see is grassroots communities taking care of themselves — so many [of which] are led by women." But this phenomenon is not unique to the post-Maria Puerto Rico — many of these same women were leaders in their communities with small businesses, across many different sectors.
In addition to co-founding Animus, the largest women's innovation and leadership summit in the Americas, with Carlos Cobian, Gigante also founded AccessLatina, a capital accelerator program for Latinx women across the U.S. and Puerto Rico, with Marta Michelle Colon. Animus was slated to take place in mid-November, but, "anticipating the devastation" from the hurricane, it was postponed until Dec. 1 in San Juan. "My programs were, invest in women as a key solution to economic development," says Gigante. In Gigante's experience as an entrepreneur, investing in women-owned businesses, or businesses with greater gender diversity, yields a higher return on equity. "Helping women's economic development is a driver of economic development," says Gigante. "Every dollar you invest in a woman, you invest in a family, you're investing in a community, in a town, and on a larger scale, in the economic development of Puerto Rico." This year, Animus will donate 30% of the proceeds from ticket sales to help rebuild local, women-run businesses, in wake of the destruction caused by Maria.
Animus' aims — to foster leadership in women in Puerto Rico — were in place well before the hurricane impacted the island. But these goals take on a different resonance in an economy that is rebuilding itself after what many are calling a complete wipeout. With this blank slate also comes an opportunity to rebuild in an economically, ecologically, and socially sustainable way. "A different country is being born," Matilsha Marxuach, owner of Concalma, a designer goods brand in Old San Juan, tells Bustle via email. Before Maria, Concalma was very much concerned with sustainability at scale. "As a designer, I was looking to raise awareness of fair trade, local design, local production in a place where mass consumption of the fast fashion products is the standard," says Marxuach. But after, the business has had to rethink its strategies. "Due to the electricity outage, we are not able to operate our store in Old San Juan, which is where most of our sales generated from. [Now], we will to sell primary through our online shop. Our goal is to secure five international retailers to sell our products."
Josie Arroyo, founder of Bien Cool, a stationery and small goods brand, echoed the need to adopt an international mindset. "To fight against Puerto Rico's economic issues, we decided to start exporting our products to Dominican Republic and United States" long before the hurricane, she tells Bustle. But now, "we have decided that exporting Bien Cool products is our way to survive and become a global brand."
"Export is going to be even more important" than ever, says Gigante, as Puerto Rican businesses navigate this new normal. But hyper-local businesses are seeing opportunities for growth, too.
Cristina Suzama, co-founder of Lote 23, a food truck lot and event space in Santurce, started her business out of a desire to make a difference on the ground. "Puerto Rico was facing a huge brain drain and economic crisis," she says. "I was very impressed by the culinary talent in the island after moving back from NYC in 2013." She hopes to continue to foster this creativity and talent through her business.
As the New York Times reported in August, there has been some support from the government in Puerto Rico to encourage this growth. Earlier this year, Ricardo Roselló announced that his administration had certified 260 new companies with the goal of creating 1,000 new jobs through incentivizing small business owners. "We bet on small businesses and new entrepreneurs to contribute to the economic development of our island. Now more than ever, the private sector … is crucial in the creation of new jobs," the announcement said in Spanish.
Despite this business-boosting move, Roselló's conservative government has come under fire for its perceived mismanagement of the recovery effort. On Nov. 9, an electrical outage stemming from a faulty power line darkened 80 percent of the island for a day. (The line had been repaired by Whitefish Energy, the Montana company that had only had two full-time employees before being granted a $300 million contract to repair the island's power; in a statement to BuzzFeed News, Whitefish Energy denied responsibility for the outage, saying, "None of the issues reported [on Nov. 9] with the outage have anything to do with the repairs Whitefish Energy performed"). On Nov. 10, the director of Puerto Rico's Emergency Management Agency, Abner Gomez, stepped down after criticism of his decision to take a vacation less than a month after Maria hit, according to CNBC. The federal government's perceived failure to adequately respond to the humanitarian crisis in Puerto Rico has left many feeling that the solution uniquely lies in the hands of its citizens.
"Now more than ever, we as citizens need to innovate and take ownership of long-term solutions for the island," Suzama says. But this mindset was well in place before the hurricane. "I see a lot of optimism around me," says Arroyo. "Many people I know were planning (before the hurricane) ways to leave their job and start their own business. You see many new restaurants or food trucks opening, programmers building apps and international startups moving to Puerto Rico."
"Women in Puerto Rico are open minded, diligent, intelligent, and get the job done," says Marxuach. Amid the devastation of the hurricane, and the slow return to normal, it is increasingly believed that women — from San Juan Mayor Carmen Yulín Cruz to everyday entrepreneurs — will be the ones on whose shoulders Puerto Rico se levanta — Puerto Rico rises.