How Retweeting Those Manchester Photos Actually Helped Victims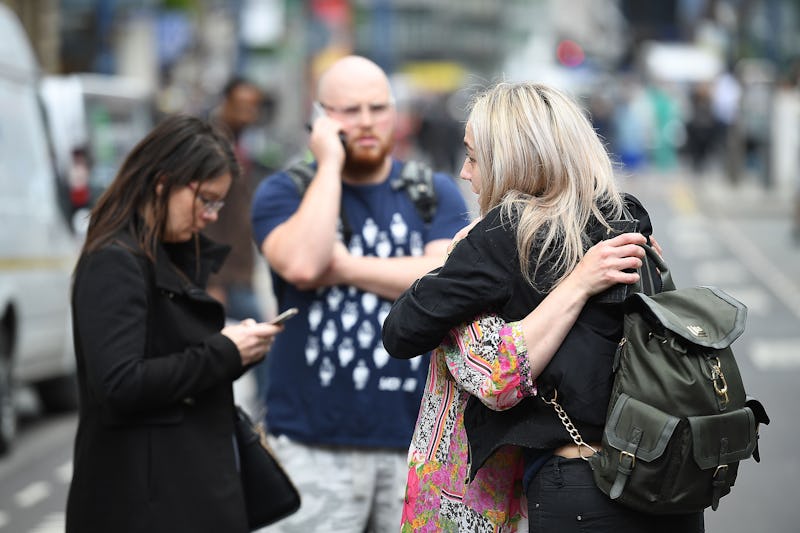 Leon Neal/Getty Images News/Getty Images
On Monday night in Manchester, England as people were leaving an Ariana Grande concert, a bomb killed 22 and reportedly injured more than 100. In the panic that ensued, many concertgoers rushed to find safety, which led to confusion and some people not being accounted for. While social media is sometimes decried as a vapid pastime, it was utilized after the attack for good. In the aftermath of the bombing, users found friends and family at the Ariana Grande concert with the help of social media.
As it has before in times of emergency, Facebook activated the Safety Check feature following reports of an explosion at the concert arena. This allowed users to tell their loved ones that they were safe from harm after the explosion. Checking in on Facebook one of the easiest ways to set friends and family's minds at ease after an emergency.
Others took to social media to share photos and descriptions of missing friends and family in the hopes that others who were in the area could work together to find them. One such successful case was shared on Twitter, in which a user posted a photo of her friend Heather, along with a message explaining that she had not been able to get ahold of her. Another user found Heather and posted a response saying she was safe and her phone had died. Say what you want about social media, but it certainly has some positive uses when it can help locate lost loved ones in times of panic.
Manchester police have also set up an emergency information line to help in locating friends and family. If you are unable to find a loved one, you can call 0161-586-9400 for assistance.
The hashtags #MissingInManchester and #ManchesterMissing are also being used for loved ones to find missing concertgoers. People also began offering concertgoers shelter with the hashtag #RoomForManchester.
As with any sharing of information, it's important to be cautious about what you post and repost regarding missing people, because some information may be false. BuzzFeed has a round up of all of the false reporting about the Manchester bombing, including instances where people are creating fake missing reports to get likes and a collage shared on social media featuring people who are not in fact missing.
However, this doesn't mean that sharing information online isn't helpful. You just need to be careful about what you post and make an effort to verify the information. Allowing the community to contribute in this type of situation through social can be a powerful, effective way to help, if used properly.