New 'Real Housewives' Star Teddi's Enviable Lifestyle Comes From Hard Work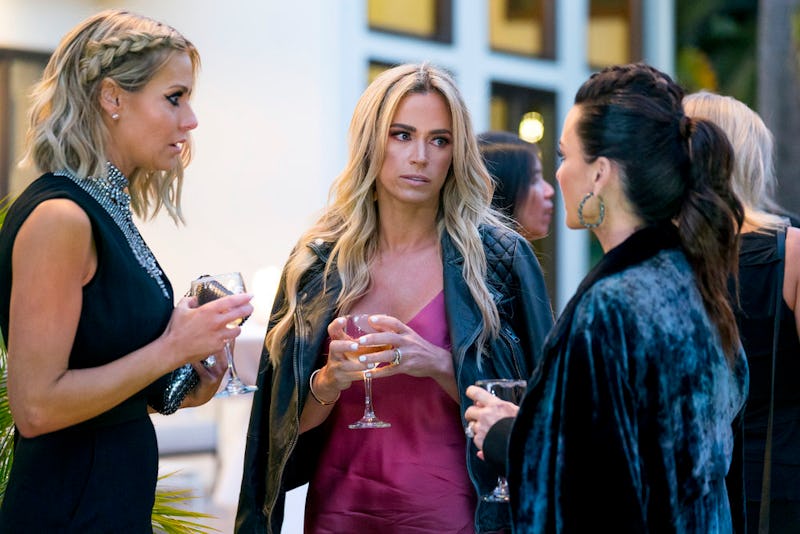 Nicole Weingart/Bravo
With every new Housewife comes a period of getting to know her and her family — is she married? Does she have kids? Does she have a wig collection that would make Cher weak in the knees? The newest Housewife is Teddi Mellencamp Arroyave of The Real Housewives Of Beverly Hills, and from the looks of the Season 8 premiere, Teddi is going to become fast friends with Dorit Kemsley and Lisa Vanderpump. Lisa and Dorit are no wallflowers when it comes to flaunting their millions, so let's ask the question that's on all our minds: How rich is Teddi Mellencamp Arroyave?
And yes, Teddi's surname of Mellencamp is indeed that Mellencamp — her father is hall-of-fame rock icon John (sometimes Cougar) Mellencamp, which means that Teddi probably had money in the bank before she even had her first part-time job. It would be surprising if Teddi didn't have some cash from her father, considering that he's sold millions of albums over his decades-long music career. Teddi, to her credit, doesn't seem the spoiled rich kid type. She was raised in Hilton Head, South Carolina, far from the lights of Hollywood or New York or Nashville, and was a champion equestrian for much of her early life. By her own admission, she moved to California at age 17 and has been making her own name ever since.
According to her BravoTV.com profile, Teddi's first gig on the West Coast was that of a talent agent. She worked for both CAA and UTA, and, according to Glassdoor, the average salary for a talent agent is about $60,000 a year. While that's not a bad salary for a normal person, Lisa Vanderpump spends $60,000 a year on dog food (probably). That's not Beverly Hills cash. Teddi's husband, Edwin, is the CEO and founder of Skyline Security Management, Inc., so that CEO role is pulling in a pretty penny, too, but Teddi is making her own cash as an accountability coach. Her website, LA Workout Junkie, urges users to "be the best version" of themselves, and Teddi's passion doesn't seem to be just about a salary — she's doing it because she loves it and because she's lived it. On her site, she writes:
"Throughout my life my weight fluctuated many times; I would pretend that those highs and lows didn't affect me but that just isn't the truth. At my heaviest, I felt lonely, sad and angry. At my smallest, I felt panicked, stressed and worried that I would gain the weight back. I very rarely felt great in my own skin. After struggling to get pregnant with my son and undergoing multiple IVF treatments, I gained 80+ pounds. I was thrilled to have my healthy baby boy but was left feeling broken inside. In order to be the best mom, wife and version of myself I knew things needed to change… I knew I needed to be held accountable because I was still vulnerable to my insecurities and the changes I wanted to make. Only by finally admitting to myself that I needed to change and having a positive outlook on my journey did things begin to shift."
Salaries for this kind of coaching, according to PayScale, can run from $35 an hour to $100 an hour, and since everything costs more in Beverly Hills, Teddi can probably demand the higher end of that. If she gets results for her clients, people will pay for that. She also seems to care a great deal about her clients, and you just can't fake that kind of authenticity. Teddi does some sponsored posts she does on Instagram, too, which we all know can make the best influencers a pretty penny:
By all accounts, Teddi and her husband make enough money to give their family a good life. Can I put an exact number on that? No, not really. But the fact that they live in Beverly Hills, California, one of the most expensive zip codes on the planet, and are able to have a ton of fun with their kids means that the Arroyave clan is probably not hurting. I mean, this is one cool, superhero-themed party for a three-year-old:
Clearly, Teddi and Edwin have worked hard to get where they are, turning their passions into full-time endeavors, and that drive and perseverance are worth everything.