'Mowgli' On Netflix Is Way More Intense & Less Kid-Friendly Than You'd Expect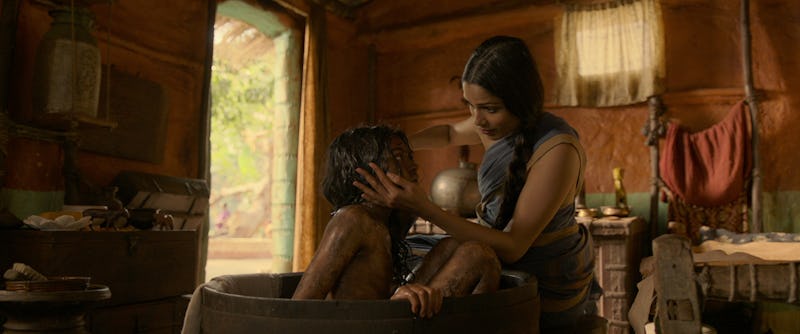 Netflix
Another Jungle Book film adaptation is coming out, and this time it shows a part of the story the Disney animated and live action versions didn't. Netflix's Mowgli: Legend of the Jungle, shows Mowgli going into the human village, and his journey is a dark one. Mowgli is actually kind of scary — at least scarier than what viewers might be expecting.
This is worth noting because the Disney Jungle Book films are firmly in the "kids movie" category, especially with their musical numbers, which Mowgli lacks. Of course, adults can enjoy these movies, but they are also fine for kids of all ages, even really young ones. As for Mowgli, while children can surely watch it, if they are very young or squeamish, it might not be a good fit. There's a lot of suspense and even some violence.
Mowgli spoilers ahead. For example, in one uncomfortable scene, Mowgli's arm is slowly and painfully cut by the tiger Shere Khan's (Benedict Cumberbatch) claws, and if you're expecting a lighter movie, this (and other similar events) might be surprisingly gory. Also, when Mowgli (Rohan Chand) goes to the village, he's put in a cage for a while where he's left to scream and eat food through a door like an animal, which is pretty dark and disturbing.
There's also a scene that shows that Mowgli's wolf friend, Bhoot (Louis Ashbourne Serkis), has been killed by a hunter/representative of British imperialism (Matthew Rhys) and taxidermied, which leads to Mowgli considering taking direct revenge. There's also a fight scene towards the end that gets quite violent. Again, adults and older kids should be fine and, at the most, have to turn away from the blood if they're sensitive about that. Mowgli is definitely not meant to be a scary movie, just one darker than its predecessors.
Director Andy Serkis, who also voices Baloo in the movie, set out to make the film dark and more inspired by the Rudyard Kipling books, as well as the world the writer lived in, than the other movies. "I think that there is an appetite for darker, or should I say more emotionally powerful or resonant metaphor-driven storytelling," he told io9. "I think we live in such a world that is fraught with danger and fraught with changes, and I think it's.. alongside the big tentpole movies that are lighter and more tentpole-driven, I think there is definitely room for looking at the human condition through a prism which is slightly more serious."
As for the Kipling connection, Serkis said, "He's a much beloved novelist, and author and poet — but others believe him to be a child of the British Empire and therefore potentially, racist, in a sense. So the conflict within the writer himself, and the conflict within the timeline in which the book was written, is sort of doubly layered into our version of the story." This is shown through the white hunter character, who is "helping" an Indian village with their tiger problem. Mowgli steps up in that situation in a couple of ways.
If you want to check out Mowgli for yourself and see how dark things really get, Mowgli: Legend of the Jungle is in limited theatrical release now, and debuts on Netflix Dec. 7.