10 Ways To Add Tea Tree Oil To Your Hair Routine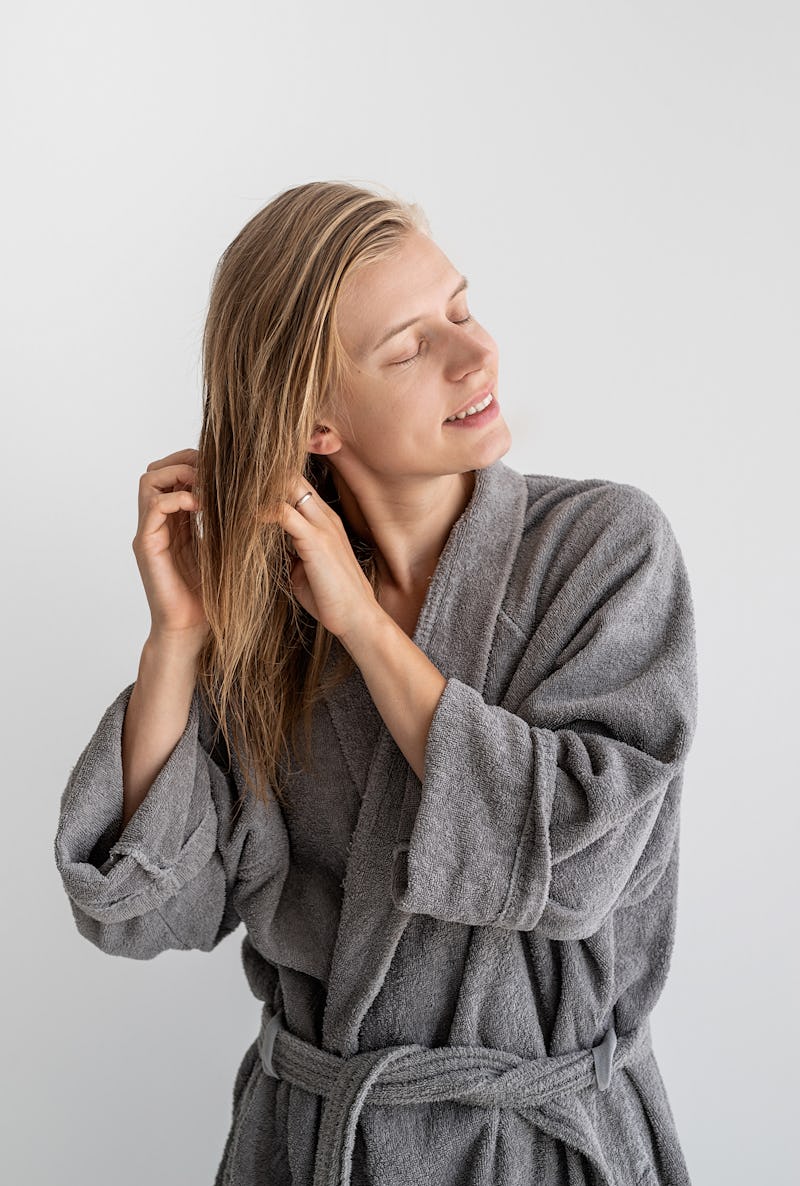 Ilona Shorokhova / EyeEm/EyeEm/Getty Images
If you've ever tried tea tree oil on your face, you probably know of the magic it can work to keep your complexion clean and clear. But have you tried it on your head? Turns out tea tree oil is also great for your scalp and hair, and there are actually a number of ways to utilize this essential oil. Mary Delgado, Executive Manager of artnaturals, tells me over email that tea tree oil in the form of a shampoo can be used "daily to cleanse and help treat various scalp conditions or use[d] once a week for a deeper, thorough cleanse to remove build-up from regular hair-styling products."
But whether you choose to add tea tree oil to your hair-care routine in the form of a shampoo, oil, mist, or mask, it can help with a number of concerns. According to Delgado, if dandruff is a problem, tea tree oil helps moisturize and soothe an itchy scalp to prevent flakes. Worried about psoriasis, head lice, or hair loss? Delgado says using tea tree oil can also help prevent these concerns and even stimulate new hair growth. Ready to add this superhero essential oil to your regimen? Here are 10 tea tree products to try for a fresh and healthy scalp and hair.
artnaturals Tea Tree Shampoo & Conditioner Duo, $27, Amazon
This natural shampoo and conditioner work together to invigorate and refresh a dry scalp while also softening your strands and stimulating hair growth.
Wen Tea Tree Cleansing Conditioner, $32, Chaz Dean
If a cleansing conditioner is more your speed, this one reduces scalp sensitivity and dryness, relieves itchiness and flakiness, and of course, keeps your strands hydrated from root to tip.
Earth's Nectar Jojoba & Tea Tree Scalp Oil, $19, Sephora
Control oil production and excess build-up while giving your hair a shiny finish with this oil that can be used as a quick or even deep-conditioning treatment.
CHI Tea Tree Oil Tea Tree Serum, $15, Amazon
This fast-absorbing serum will leave your scalp and strands nourished and even protected from heat and UV rays.
SheaMoisture Baobab & Tea Tree Oils Low Porosity Protein-Free Leave-In Detangler, $11, Target
For long-lasting moisture without the build-up, try this leave-in conditioner that will stimulate your scalp and detangle your strands.
Wen Tea Tree Replenishing Treatment Mist, $30, QVC
Refresh and revive limp hair between washes while gently conditioning it with this light, tea tree-infused mist.
Paul Mitchell Tea Tree Hair And Scalp Treatment, $16, Amazon
This quick treatment will soothe your scalp while repairing and protecting your hair. Bonus? It will leave your tresses smelling great too.
Bumble And Bumble Tonic Lotion, $25, Sephora
Refresh and balance your scalp with this mist that will prime your hair for any style.
Wen Tea Tree Re-Moist Hydrating Hair Mask, $61, Amazon
This tea tree mask will totally rejuvenate dry and damaged locks while leaving your scalp feeling healthy and balanced after just one use.
Paul Mitchell Tea Tree Lemon Sage Thickening Spray, $15, Amazon
Add volume and control to your strands so you can boost your style and manage your mane— all with the benefits of tea tree oil, of course.
Because tea tree is one essential oil that isn't just for your face.
Images: Ilona Shorokhova / EyeEm/EyeEm/Getty Images; Courtesy of Brands