Twitter Is So Pissed About How The 'BiP' Stars Talked About Corinne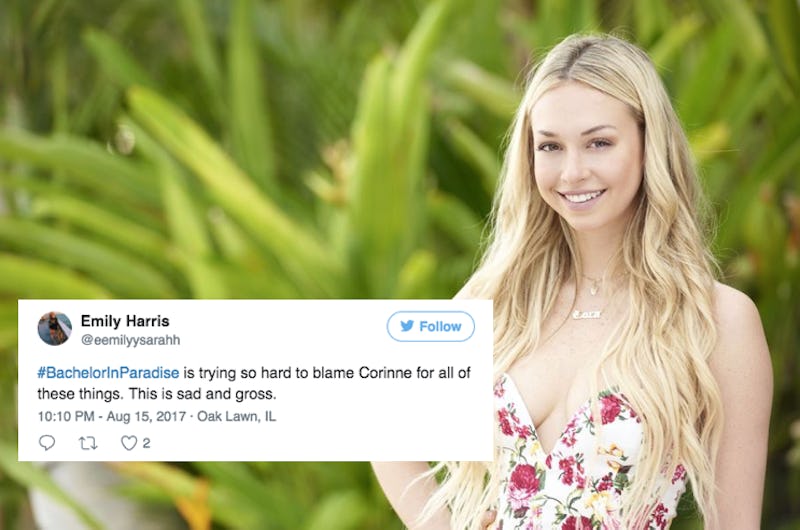 Bob D'Amico/ABC
After waiting months to find out how Bachelor in Paradise would address the incident between Corinne Olympios and DeMario Jackson, fans had a lot to say about Tuesday night's episode. Although Monday night's season premiere teased the topic, it got put off until Tuesday's episode — and when the subject was finally tackled, fans on Twitter were angry that Corinne Olympios was seemingly blamed for the situation and production shut down by her fellow cast mates. (Bustle reached out to ABC and Corinne's lawyers for comment on how the cast talked about the situation, but has not yet received a reply.)
As a refresher: After claims were made by a producer that alleged sexual misconduct occurred between DeMario and Corinne, production was temporarily shut down. DeMario repeatedly denied the accusations, and both Warner Bros. and Corinne's lawyers — who each conducted independent investigations — concluded that there was no evidence of misconduct. Corinne then released a statement saying she was satisfied with the outcome, and filming resumed.
On Tuesday night's episode, the stars of BiP gathered for a discussion with Chris Harrison after filming had resumed. The group chat session led to the general consensus that Twitter wasn't very happy with — especially when phrases like "personal responsibility" were being thrown around by the cast. Taylor made a veiled comment about the Corinne's involvement in the situation, saying, "We're responsible for ourselves ... how much we drink, who we kiss." Danielle M. even alleged that Corinne "wanted to try and save face" by calling herself a "victim" in her initial statement. Since releasing her first statement, Corinne released another statement on June 29, which reads:
My intent over the past few weeks has been to learn and understand what happened on June 4. While I never filed complaints or accusations against anyone associated with Bachelor in Paradise, my team and I felt it was very important to be thorough in getting to the bottom of what had occurred. I felt victimized by the fact that others were judging me through conflicting and unsubstantiated reports, while I myself had no recollection of the events that transpired. My team's investigation into this matter has now been completed to my satisfaction ... I understand the media's interest in this story, and I greatly appreciate my fans' concerns for my well-being, but I think it is best if I keep any further thoughts private for now.
Now, fans are outraged that Corinne was seemingly bore the brunt of the blame from her cast mates, and viewers took to Twitter to voice their frustration at how the talk panned out:
Others were upset at how Corinne was being talked about during a discussion that she wasn't present for:
Others felt frustrated by the lack of information and seeming finger-pointing.
And in the end, this tweet basically sums up how Twitter felt the cast members treated the talk:
Regardless of what really happened between Corinne and DeMario, and even though no wrongdoing was found, real people's lives were affected by the sexual misconduct allegations and the production shut down. And Twitter clearly thinks the cast should have taken all of that into consideration when talking about Corinne.