How The Government Shutdown Could Hurt Domestic Violence & Sexual Assault Survivors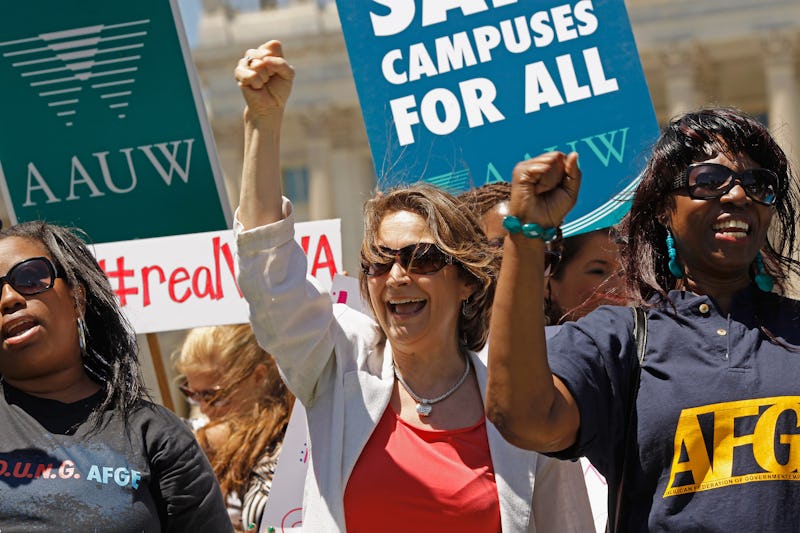 Chip Somodevilla/Getty Images News/Getty Images
Funding for multiple federal departments lapsed at midnight Friday as the White House and congressional leaders failed to agree on a spending deal that would keep the government open. But in failing to pass a spending deal and avoid a partial government shutdown, Congress allowed the Violence Against Women Act to expire, effectively halting funding for a myriad of programs that aide domestic violence and sexual assault survivors.
The Violence Against Women Act expired at midnight Friday after a short-term extension of the act — the second passed this year — ran out before Congress could pass legislation to protect it. According to The Washington Post, a resolution designed to extend the act until at least February had been folded into a spending bill the Senate passed earlier this week. The continuing resolution bill passed by the House late Thursday also reportedly included a temporary extension of The Violence Against Women Act.
But neither of those deals have managed to gain the approval of both chambers of Congress and the president. Meaning efforts to extend the Violence Against Women Act before its expiration deadline languished as funding for key government agencies lapsed as the clock struck midnight.
Although the most recent government shutdown is partial in nature —according to CNN, approximately 75 percent of the federal government has already been funded through September of next year — a number of key departments have been left without funding. These include the Justice Department, which funds dozens of grant programs under the act.
According to the Department of Justice's Office on Violence Against Women, the Violence Against Women Act authorizes the administration of 25 grant programs, including those designed to aide states with developing and strengthening effective law enforcement and criminal prosecution strategies in an effort to stop violent crimes against women.
Earlier this year, House Minority Leader Nancy Pelosi harshly criticized Republican members of Congress for working a short-term extension of the Violence Against Women Act into a spending bill. She urged House Speaker Paul Ryan to call a vote on legislation for a long-term Violence Against Women Act, which had been introduced by Rep. Sheila Jackson Lee. "Republicans' decision to include only a short-term VAWA reauthorization in the must-pass minibus spending bill is nothing short of an abdication of our responsibilities to women in our country," Pelosi wrote in a letter to Ryan back in September.
At the time, Pelosi also called for the act to be expanded to include other marginalized communities. "As Members of Congress, it is our responsibility to ensure that every woman, in every part of our society, can live free from violence," the letter reads. "Yet, the continued refusal over many years of House Republicans to extend VAWA's critical protections to include vulnerable communities, particularly Native American, immigrant, and LGBTQ communities, represents a blatant dereliction of that duty."
Yet, this isn't the first time Congress has allowed the Violence Against Women Act to expire since its passage in 1994. According to Roll Call, the act first expired in 2011 and wasn't fully reauthorized until 2013. Hopefully this time it doesn't take two years for the act to be reauthorized.