How 'Henrietta Lacks' Carefully Avoids The White Savior Trap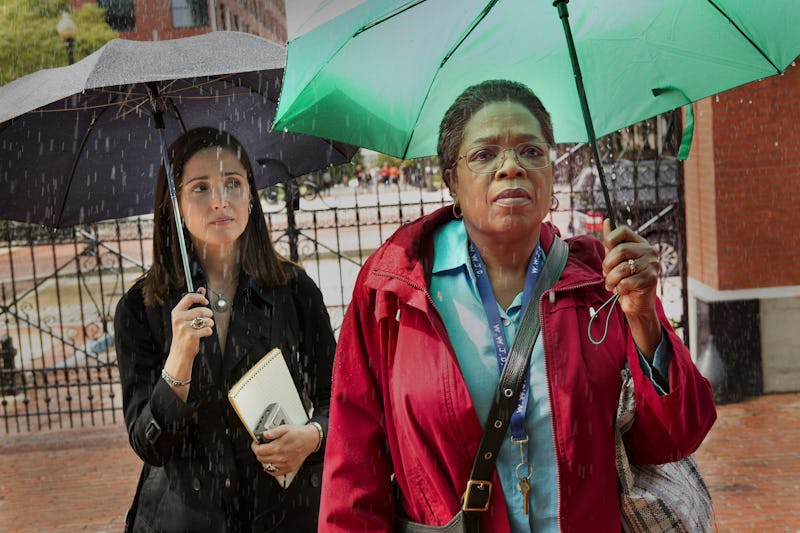 On the surface, HBO's upcoming film adaptation of The Immortal Life of Henrietta Lacks can seem like it falls into a familiar stereotype. The movie follows Rebecca Skloot (Rose Byrne), as she becomes obsessed with the untold story of Henrietta Lacks and tracks down Henrietta's surviving family to write a book about them and about the woman behind the infamous immortal HeLa cells. Rebecca is white; the Lacks family is black. How she changes their lives seems to drip with the White Savior trope — which is something the cast and director were very aware of going in. And, in the end, distilling the film down to that harmful narrative would be a huge mistake.
"The question of the white savior was something we discussed day one," says actress Rose Byrne to reporters at the Henrietta Lacks press junket. She weighs her words carefully as she speaks, which matches the gravity of the subject. "It's complicated and complex, and it's something that I really leaned on George [C. Wolfe] and Oprah [Winfrey] for. Rebecca wrote the book, [and] her doggedness, determination, obsession with it is one of the reasons we're here. One of the reasons. But it's a complicated thing, and I very much leaned on these guys to understand [and] to navigate delicately."
As an Australian, Byrne doesn't have the exact same experience with the racism of the White Savior trope that American actors do, which made it all the more important to her to get it right. Even off-screen, that effort is shown in the way that she says nothing further on the subject and instead listens attentively to director George C. Wolfe and actor Courtney B. Vance as they speak more knowledgeably and personally about it.
"There's something that happens when Rebecca meets the tornado that is Deborah Lacks," says Wolfe. "Despite all the things that have happened to [her], Deborah does not view herself as a victim. Nor is she without power, nor is she without agency. What she doesn't have is access... And, also, Deborah has this sense of, 'Sometimes, I have a little bit of anxiety that might erupt. Therefore, the trust that I have for you today might not be there tomorrow.' So, to me, I think it's a much more mercurial, complicated, and, hopefully on some level, dangerous relationship."
It's definitely the truth that Rebecca Skloot and Deborah Lacks, as portrayed by Byrne and Oprah Winfrey, have a relationship that's far more complex than simply Rebecca "saving" Deborah from poverty or obscurity. Rebecca does not simply swoop in, ingratiate herself with this family, and wave a magic wand that fixes all of their problems by virtue of her whiteness. In fact, as seen in the movie and in real life, Rebecca's intervention has changed very little for the family at all. The film isn't about results; it's about real, human connections, how they're built and how they're broken, and how they can be both at once.
"I love the fact that it was a white girl who brought us to this wonderful, beautiful moment," says Courtney B. Vance. "We couldn't do it somehow ourselves, and it really speaks to me how much we need each other. Instead of going, 'why did a white person have to do this?'... to see these two women come together... It brought you back to that place where we're all one."
And that, more than anything, is what comes across the most during Henrietta Lacks. There is no saving, or being saved. Rebecca listens more than she actively participates over the course of this film, and her whiteness and privilege is neither swept under the rug nor waved like a flag symbolizing her right to this family and this story. Though it may be the story that Rebecca is trying to tell, the story and the film are about Deborah Lacks, the Lacks family, and the voices that history has silenced. Rebecca's voice never once dares to silence them either.