How The First Partial Solar Eclipse Of 2019 Will Affect You, Based On Your Zodiac Sign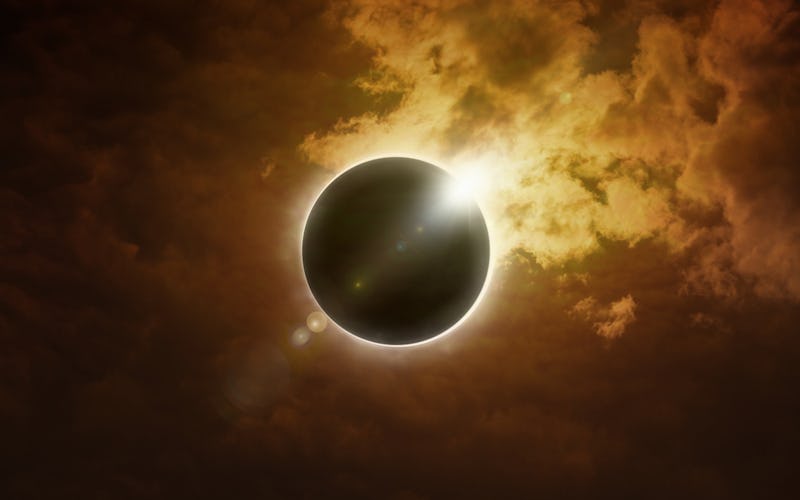 ShutterStock
Proof 2019 is beginning with a bang: The first new moon of the new year on Jan. 5 is also coinciding with a partial solar eclipse. A new moon happens when the moon passes between the Earth and the Sun, making it look like there's nothing in the sky at all. When there's a solar eclipse during a new moon — even a partial one — the moon darkens the Sun as well. Although the January solar eclipse is a partial one, it's still going to be more powerful than your average new moon, meaning that that energy it brings will be even more influential. The January partial solar eclipse will affect you based on your zodiac sign, as with any other astrological event.
A new moon is the beginning of a new lunar cycle, and typically comes with the energy to leave the past behind and start something new. This is the kind of vibes many people want to feel in the very beginning of a new year, so it's coming at the perfect time. And, according to Astrology King, the influence of a solar eclipse lasts for months longer than the influence of any other new moon.
This partial solar eclipse is happening in the zodiac sign Capricorn, so it'll be bringing a lot of Capricorn energy to all signs. Bustle spoke with astrologer Lisa Stardust, who shares, "it will be powerful, as it aspects austere Saturn, transformative Pluto, and mythical Neptune." Stardust adds, "Under this eclipse, we will all be forced to implement our new visions for the new year, as well as release view that no longer serve our higher good." This could be the extra motivational boost you need to not only start but also achieve your goals for the new year.
Stardust also shares how partial solar eclipse will affect each person, depending on their zodiac sign. Read on to get a better idea of what you can expect in the beginning of 2019: