How Trump's Tweets Could Derail Efforts To End The Slave Trade In Libya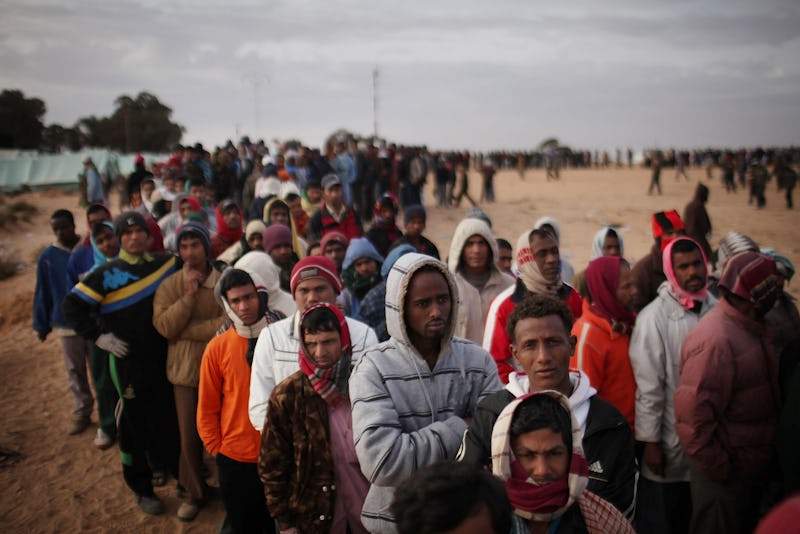 Spencer Platt/Getty Images News/Getty Images
In the United States, it's no longer a surprise to hear the president vociferously attack the mainstream media of his own country. In fact, since the inauguration of Donald Trump in January, it's become the rule, not the exception. But sometimes, anti-media declarations by the president of the United States can have broader implications and impacts around the world, including allowing Libyan media to dispute the slave trade that is devastating the country right now.
Libyan TV channel 218TV posted an article on its website this week titled — as journalist Jenan Moussa of Al Aan TV noted — "Trump says CNN lies... what about the "slavery" report from Libya?"
The article, which is written in Arabic, tries to call into question the credibility of CNN's explosive and in-depth reporting on the extent of the slave trade in Libya, which reportedly includes open-air slave markets with human beings up for sale for as little as $400. The 218TV piece cited Trump's recent attacks on CNN to make the case that its reporting can't be trusted, and therefore, the news about the slave trade is fake. Earlier this week, Trump tweeted that CNN International is "a major source of (Fake) news," and said that "the outside world does not see the truth from them!"
Adotei Akwei, the Managing Director of Government Relations for Amnesty International USA, tells Bustle that while the organization doesn't have any precise evidence of what sort of impact this kind of anti-press messaging is having in Libya, the practice of undermining the press has broadly negative implications for the cause of advancing human rights.
"The attempt to discredit news outlets is part of an unfortunate undermining of civil society and human rights defenders in general," Akwei says. "And I know that some people don't equate newspapers and reporters with human rights defenders, but they are indeed a critical part of transparency, and ideally, accountability. Not to mention educating people about their rights."
At present, slave auctions at a number of sites in Libya ― nine specific ones were cited in CNN's investigation ― are reportedly selling off human beings for hundreds of dollars, exploiting a flood of vulnerable migrants and refugees attempting to cross the Mediterranean into Europe.
It's part of this larger kind of assault on human rights defenders.
While there's no telling precisely how many people have been sold into slavery over the past couple of years, to describe the situation as dire would be an understatement. The conditions for those migrants who manage to avoid that fate still face immense danger and peril, too; the Mediterranean crossing is perhaps the most dangerous refugee route in the world, with more than 2,500 people having drowned attempting it this year alone.
Akwei says that in addition to increasing the peril that journalists and human rights workers face around the world, the disparaging of journalistic outlets that report on human rights contributes to an environment of cynicism.
"Having those types of institutions being attacked, questioned, derided, does contribute to a global culture of increased risk for those institutions and the individuals in them," Akwei says. "It contributes to a certain kind of cynicism in the general public, and we would argue that it's part of this larger kind of assault on human rights defenders."
Trump's frequent proclamations about "fake news" have had a broad impact on the media and political landscape for months. As a prime example, back in October, Republican representative Paul Gosar ducked a pointed line of press questioning about a conspiracy theory he'd pushed by yelling "fake news" as he rushed down a stairwell.
In this case, however, Trump's attacks on the media — CNN in particular —  seem to be having a problematic international impact, and one that could undermine the public's understanding of some very serious, severe reports of ongoing crimes against humanity.