The 'Julius Caesar' Controversy Overshadowed An Important Choice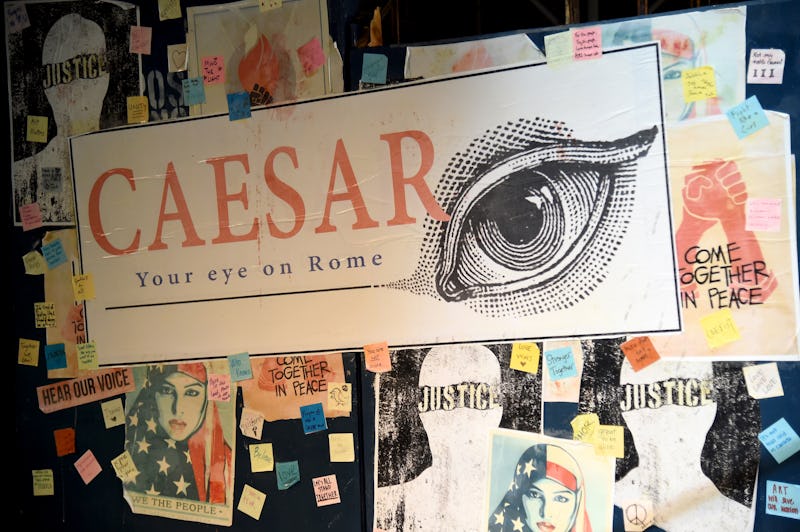 Ilya S. Savenok/Getty Images Entertainment/Getty Images
I was able to catch the now infamous Public Theater production of Julius Caesar in Central Park during previews, meaning before any reviews were published, and before alt-right bloggers began showing up to protest the show. Though it's made headlines because some conservative outlets have declared that this production advocates for the assassination of Donald Trump, and Delta and Bank Of America pulled their sponsorship of the Public over the backlash, one element that stuck with me has slid by unnoticed in the aftermath of the show's opening. Marc Antony is played by a woman in Shakespeare In The Park's Julius Caesar — actor Elizabeth Marvel from Homeland and House of Cards. In this aggressive production of the 1599 play, for better or for worse: in Rome, the future is female.
Marvel's portrayal of the traditionally male politician character is casual and cool — seductively folksy, as so many Americans want their leaders to be. At the beginning of the production she is dressed not in a power suit, but in jogging gear. (I only know this to be a popular Washington activity thanks to House of Cards and also Captain America: The Winter Soldier.) Later, Antony crawls and sits directly on the stage — which for a woman in politics is a jarring image in and of itself, and therefore empowering. Her "Friends, Romans, Countrymen" speech utterly electrifying.
"It really resonates, putting a woman in that story, in that power structure," said Marvel in an interview with The New Yorker. "Marc Antony is underestimated for various and sundry reasons. But when the underestimation is gender-centric the lens that you look through is really interesting."
Marvel also told The New Yorker that she drew some inspiration from former South Carolina Governor and current Ambassador to the United Nations Nikki Haley, but what's particularly striking to me is that there is not a direct analogue in today's society. Yes, Gregg Henry's Caesar is undeniably supposed to remind audiences of Trump, but Antony is not styled like Trump allies Kellyanne Conway, Sarah Palin, or even an antagonist such as Kamala Harris or Hillary Clinton. It begs the question — why isn't there a woman like that in our society, with the same power of Antony — who can turn and inspire a crowd?
Personally, during the first half of the Public Theater's production, I felt a little condescended to as an audience member. As recent research has brought to life, many many American leaders have been depicted as the doomed ruler in various productions of Julius Caesar. It's not exactly innovative as an artistic choice. And it seems unrealistic and affected to have Guy Fawkes/Anonymous masks rioting on stage alongside women in pussy hats. I'm not quite ready to laugh at Calpurnia sporting an Eastern European accent reminiscent of Melania Trump's, and I found one moment that changed Shakespeare's text to reference the then candidate Trump's "Fifth Avenue" comment trite.
Plus, in 2017 it doesn't take much for a piece of popular culture to be compared to Trump and the current state of politics. Everything from sitcoms to summer jams feels more relevant and important now. But despite my own preferences, subtly is not often found in political theatre or protest art.
I suppose that the fact that this casting has gone relatively uncommented upon is ultimately a good thing. Isn't that the goal, or at least a goal, of representation? The character functions in the play seemingly apart from her gender. At the same time, Marc Antony is an antagonist of sorts, and if the audience carries this Trump metaphor through, she is likely a fellow Republican, who uses an assassination to provoke a civil war. Wouldn't that be an interesting addition to the conversation about this production?
But maybe the exclusion of the Mark Antony casting does nothing more than reveal the superficiality of the whole controversy. While Caesar actor Gregg Henry, whose character on Scandal was also compared to Trump, was cast months ago and the contents of Shakespeare's play (inspired by true events) has been available for centuries, those corporate sponsorships weren't pulled until after the show had already opened and far-right commentators started making noise about it. Social media isn't discussing Antony being played by a woman because usually Shakespeare In The Park conversations don't make it far outside of Sunday brunch somewhere in Brooklyn. And what's happening right now isn't analysis or critique.
One of the first targets of the House Un-American Activities Committee (then named for Martin Dies) was federally funded New York theater in 1938. And that history proves that this new controversy that's been kicked up around non-profit theater and artistic freedom is not something to shake off and forget. And it's a shame — because the message of Julius Caesar has been somewhat buried under the magnified Trumpian optics of the production, which closed June 18.
Casting a woman as Marc Antony adds valuable layers of meaning to those themes of destructive power and ambition. Heck, here's hoping that Shakespeare In The Park does Antony And Cleopatra in 2018 and Marvel reprises her role. Maybe then her performance will have the impact it should have had here.