Here's How Your Fave Real Housewives Earned All That Money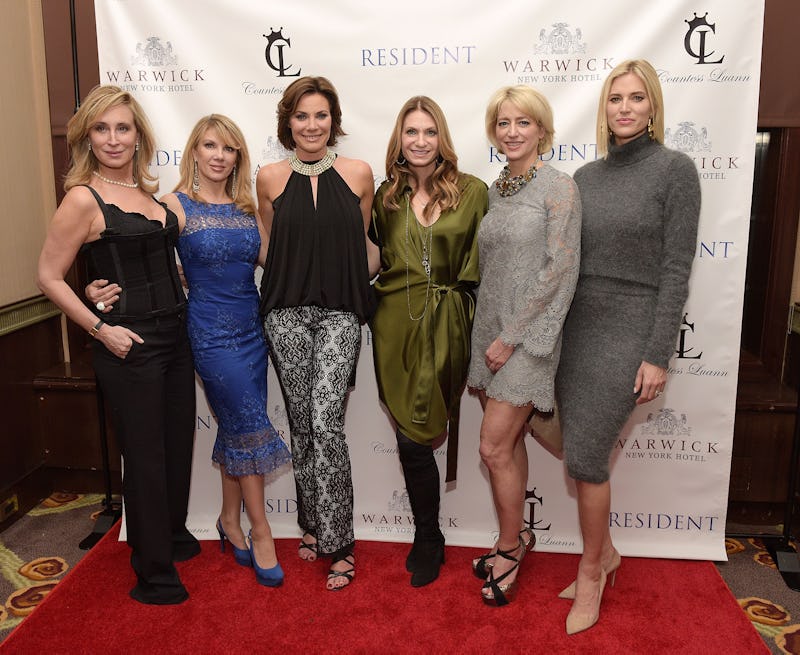 Grant Lamos IV/Getty Images Entertainment/Getty Images
It goes without saying that the women of Real Housewives lead majorly posh lifestyles. From the massive homes to their luxurious cars and fancy wardrobes, it's natural to become curious about how some of the Housewives became so rich in the first place. While a few of the women were born into riches, there are many others who have risen to the top by creating businesses and brands that have helped to draw in some major figures. There are also some who have come into riches through high profile relationships, and have helped their spouses build profitable empires.
It's very understandable if watching the Housewives' love for the finer things in life has caused you plenty of curiosity about the fortunes that many of them have managed to amass in their lifetimes. Over the years, it seems that these ladies' net worths have become more and more impressive with every season that airs. While many showcase their businesses on the series, there are quite a few who have remained mum about the source of their financial gains. That said, here's a closer look at some of your favorite Housewives and how they became so wealthy.
1. Lisa Vanderpump
Wetpaint reports that one of Real Housewives of Beverly Hills, Lisa, had an early job working at a bar in London where she met and married the owner Ken Todd six weeks later. The outlet writes that the reality star has also dabbled in the acting world, appearing in shows such as Silk Stockings and Baywatch Nights. She and Ken later moved back to London and became well-known restaurateurs, owning 30 bars and restaurants in both England and the United States. In 1998 Lisa and Ken sold four of their London bars to the Trocadero group for $10.5 million, according to Medium. The 57-year-old RHOBH star now reportedly boasts a staggering net worth of $75 million, according to Time.com. Her large restaurant empire, which includes SUR, Pump, Villa Blanca, and TomTom along with the reported $500,000 salary that she pulls in for every season of Housewives also helps keep major change in her pocket these days.
2. Vicki Gunvalson
As the longest tenured housewife, Vicki has amassed an estimated net worth of about $7 million. The bulk of the Real Housewives of Orange County star's money was made through her insurance firm, Coto Insurance. For her business savvy, Bankrate reveals that Gunvalson was named Orange County's Entrepreneur of the Year in 2015. Pulling in $750,000 per season of RHOC certainly doesn't hurt either.
3. Kandi Burruss
Madame Noire notes that Kandi was the wealthiest housewife prior to joining the show. As one of the hardest working women in reality TV, the Real Housewives of Atlanta star has a whopping net worth of $36 million and has made the bulk of her fortune writing songs such as TLC's "No Scrubs," NSYNC's "It Makes Me Ill," and Destiny's Child's "Bills, Bills." In addition to her musical endeavors, the mother of two also owns an adult toy line, and an Atlanta-area shop which helps her bring in extra bank. The Xscape singer also got a $200,000 raise for Season 10 of RHOA, and she now makes $2 million for her appearance on the reality series, per Radar Online.
4. Bethenny Frankel
Bethenny created a multimillion dollar empire with her Skinnygirl brand which she ended up selling it for $100 million. International Business Times reveals that she earns about $40,000 per episode for her appearance on Real Housewives of New York City which is a far cry from the $7,250 that PeopleStyle reports the reality star made during the show's entire first season.
5. Nene Leakes
In addition to her role on reality TV, RHOA's NeNe is also an actor, appearing on shows such as Glee and The New Normal. In recent years, Nene has also participated on Dancing With the Stars and The Celebrity Apprentice, both of which she received pretty decent paychecks for. After briefly leaving RHOA in Season 8, Nene's return in Season 10 yielded a salary of $2.5 million and turned her into the highest-paid cast member of all time, according to Madame Noire.
6. Ramona Singer
Throughout the years, Ramona has had her own jewelry line, skincare products and even created her own brand of wine called Ramona Pinot Grigio. However, her core business RMS Fashions, Inc., which buys excess inventory from retailers and sells it to discount stores, seems to be her biggest source of income. Those things combined with her reported $500,000 per season RHONY salary make her personal net worth of $18 million nothing to sneeze at.
7. Kyle Richards
Kyle started her career off as child actor, appearing on shows such as Little House on the Prairie decades before her days on Real Housewives of Beverly Hills. Also an entrepreneur, Kyle owns her own boutique and also served as co-executive producer of the now-cancelled series, American Woman. Her $270,000 per season salary for RHOBH only adds to her reported $50 million net worth.
8. LuAnn DeLesepps
The former countess and Real Housewives of New York star used to model and was once the host of an iconic Italian TV show before meeting and marrying Count Alex de Lesseps in 1993. The couple split in 2009 and Luann has since gone on to write books, release music while appearing on RHONY. She currently boasts a net worth of $25 million, according to DailyMail.
9. Shannon Beador
Real Housewives of Orange County cast member Shannon reportedly has net worth around $20 million. Beador and her estranged husband, David owned a Corona, California construction company which brought in $13 million a year prior to their split, according to Celebritynetworth.com. While the exact amount of her reality TV salary is unclear, divorce documents obtained by Radar Online indicate that Shannon pulled in $400,000 in 2017.
10. Dorinda Medley
With a reported net worth of $20 million, Dorinda started her career in fashion working for Liz Claiborne in New York before embarking on her own cashmere company in London which was patronized by high-profile clients like Princess Diana and Joan Collins. She owned the company for 10 years before she sold it and moved back to the United States. Her exact RHONY salary is not known, but it's most likely pretty decent given the fact that Dorinda is one of the show's most beloved cast members.
Ambitious and hardworking, the women of Real Housewives seem to take care of business — both on and off camera.