Florida Banned Greyhound Racing — Now, Groups Will Help You Adopt These Dogs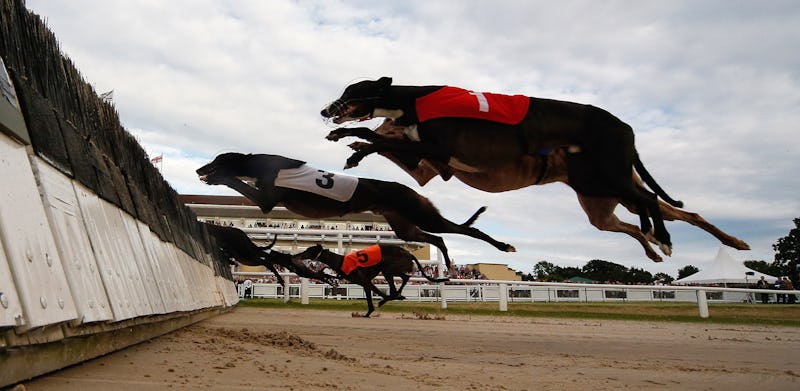 Alan Crowhurst/Getty Images Sport/Getty Images
Remember that episode of The Simpsons where Homer brings home the greyhound dog Santa's Little Helper after he can't race anymore? You might not know that you can do that IRL. Interested? Then you're going to want to know how to adopt greyhounds from Florida after the state banned dog racing with the passage of Amendment 13 during the midterm elections. This means that Florida is becoming the 41st state to ban greyhound racing, and will phase out the practice by 2020.
This is a big win for greyhounds, as PEOPLE magazine reported that 11 of the country's 17 remaining greyhound racetracks are based in Florida. As the state begins to retire more dogs, these sweeties will be in need of safe, patient, and loving homes where they can blossom in to the dogs they were meant to be.
While greyhounds are known as super-fast runners, once they find human parents they're actually content to lounge around the house. I once dated someone who adopted a retired greyhound and he was the most lovely and docile dog ever. If you want to give a retired greyhound a loving home, here's how you can help.
Before you bring any dog home, it's important to do your research to make sure the dogs is a good fit for your lifestyle. "[Greyhounds] need to know who the 'alpha' figure (the pack leader) is so that they know how to behave. The alpha figure sets the rules, enforces discipline, and is responsible for the safety, health, and well-being of the pack," The Greyhound Project noted on its website.
"As a pet, your dog will look to you to be the alpha figure. One of the first behaviors you will probably notice is your new dog following you from room to room looking to you for leadership. If you do not fill the role of the alpha figure in terms your dog can understand, it will be perfectly willing to take over if it is allowed." What's more, a retired greyhound has likely never been around another dog breed or a cat, so you'll want to introduce them slowly to your other pets.
Because they have hardly any body fat, greyhounds are sensitive to cold climates, which means they shouldn't spend extended periods of time outside in the winter or spring. On the other hand, this is the perfect excuse to get your greyhound a fly winter coat it can show off on your daily walks.
It's important to know that when you first bring your new four-legged BFF home, they may be a little hyperactive, but that will eventually subside. "They may need to act out some puppy behavior, like chewing, which they typically quickly outgrow. They are anxious to please and can be trained to standard obedience commands with patience and consistency," The Greyhound Project explained.
"They are used to a leash, love to walk, and will learn to heel quickly. Most greyhounds do not know how to sit, climb stairs, or play games only because they have not yet learned. With time they can learn all of these things." If you decide a greyhound is right for you, you can head to The Greyhound Project's website where you can learn all about these gentle dogs and how to adopt one.
You can select your state on the website's adoption map — it's kind of like the Google of greyhound adoption — to find the retired greyhound rescue nearest you. In Florida, there are more than a dozen rescues that allow people to adopt greyhounds. However, it's pretty likely that your state has a rescue as well. If you're not ready to adopt a dog yet, most rescues rely on volunteers to walk and foster their animals. This is a great way to test the waters before becoming a full-time pup parent.