Amazon Echo Just Added A Feature That Is Going To Vastly Improve Your Sex Life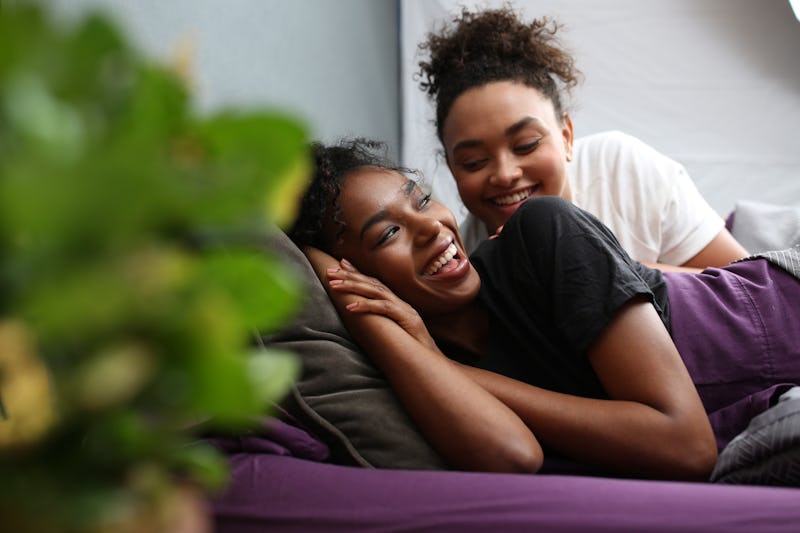 Bustle
The Amazon Echo and its virtual personal assistant, Alexa, can do a lot of things for you. It can set a timer for you. It can play games with you. It can find the best route for you. And now, Amazon Echo can play you sex music on demand. The future? It is now. Definitely, definitely now.
According to TechCrunch, a recent update to Amazon's Prime Music and Amazon Music Unlimited services with the Echo in mind now allows users to request "music for activities." As TechCrunch notes, Amazon Music did previously support a few activity requests; for example, asking your device to play "music for a dinner party" would lead to an Amazon editor-created playlist intended for that purpose. Now, though, the scope of the feature has been dramatically expended: Over 500 activities can now be paired with music, with specific genre requests enabling even more options. (TechCrunch's examples include "pop music for cooking," "classical music for sleeping," and "rock music for a dinner party.")
And, it seems, one of those activities is sexytimes. TechCrunch reports that according to Amazon, you can ask for things like "baby-making jazz music" and "hooking up music" — which, of course, is the element of the update onto which most people are latching. And, I mean, that's fair; there's just something about the fact that the command "Alexa, play baby making jazz music" will actually play you baby-making jazz music that really captures the imagination, isn't there?
(Birdsong? Birds? Bees? Get it?)
Alas, I have not successfully been able to test out this fascinating new feature for myself. I do have an Echo Dot; however, I don't have Amazon Music Unlimited, and for some reason, I'm having trouble making Prime Music work. (And, honestly, I'm not about to go waste 30 minutes in the middle of the work day trying to figure it out. I'm a busy woman, and I've got things to do.) But hey, that's what the internet is for, right? As luck would have it, other folks have had no issues; for example, wrote Mashable's Adario Strange:
Now, when Amazon Music users interact with Alexa, they can issue commands "Alexa, play baby making jazz music" or even "Alexa, play hooking up music." And you know what? It actually works. Every time I tried either command, Alexa started playing a song that could easily be deemed appropriate for excursions into the realm of the intimate.
However, it appears you do have to exercise precision in your language; according to The Verge, "Alexa will only respond to the prompt 'play baby-making music,' not 'play music for making babies.'" It seems, too, that you've got to keep your search terms PG, according to Mashable.
As for exactly what Prime Music and Amazon Music Unlimited are? They're both music streaming services offered through Amazon, although as Make Use Of notes, there are a few key differences between them. Amazon's Prime Music service comes with your regular ol' Amazon Prime subscription, but it doesn't have quite the same capabilities of Amazon Music Unlimited: It only gives you access to around 2 million songs, while Amazon Music Unlimited allows you to play "ten sof millions" of songs. Additionally, Amazon Music Unlimited requires an additional subscription,although you can get a discount if you're a Prime member. (Currently, it's $9.99 per month for non-Prime members and $7.99 per month for Prime members.) Both services allow unlimited skips and give you the option to download songs to the app so you can listen to them offline.
Of course, if you already have Spotify Premium, both Prime Music and Amazon Music Unlimited might be redundant; premium Spotify accounts can be linked with and played through Echo devices (which, honestly, makes up the lion's share of what I use my Echo Dot for). Like Amazon Music Unlimited, Spotify Premium is $9.99 per month.
Sadly, though, as Mashable notes, Echo does not have a "Netflix and chill" playlist ready to go. Looks like you'll just have to put that one together yourself.