How To Ask For Workplace Accommodations, According To 8 People Who've Done It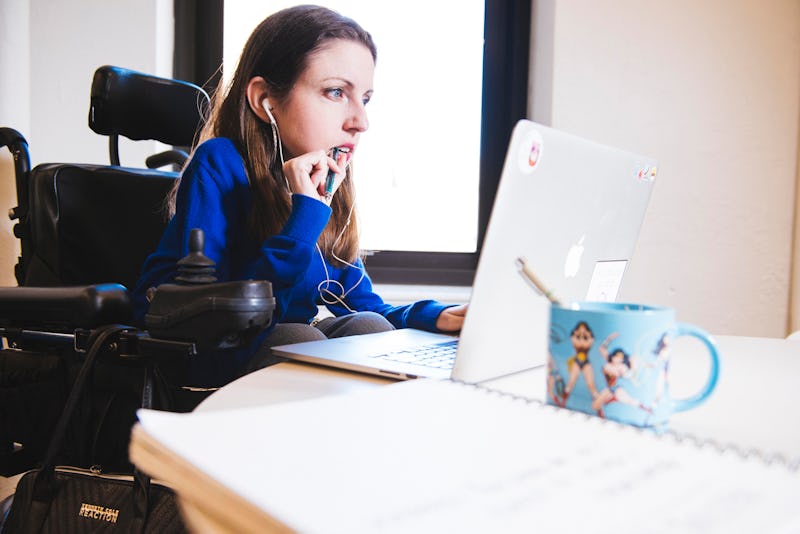 BDG Media, Inc.
You might have worked jobs that needed you at a computer screen for eight hours straight, or on your feet late into the night. These conditions can be annoying for anyone, but for people who live with a disability or chronic pain, they can be exhausting to the point of being impossible — and something will need to change. Asking for accommodations in the workplace can feel tricky to navigate. Not every employer is well-versed in what workplace accommodations look like, so bringing up them up for the first time at work can lead to a lengthy discussion.
Though disabled people are legally protected in the workplace under the Americans With Disabilities Act of 1990 (ADA), these employment rights — including their rights to reasonable accommodations — are not always respected. As Mic reported in 2017, research conducted by Rutgers University and Syracuse University found that people with at least one disability are more likely to experience workplace discrimination than their co-workers without one. Moreover, according to a collaborative investigation by The Washington Post and the Center for Public Integrity, 82% of 1 million disability workplace discrimination cases opened between 2010 and 2017 in the U.S. were closed without "relief" — which means the employee did not receive a change in working conditions like physical accommodations or compensation.
These statistics may seem stark on paper, but the toll they take on people is striking. "Sometimes, I've gotten what I've needed right away, but I've also had to fight hard to be given other accommodations, including a six-month struggle just to get a sit-stand desk," Debra, 43, tells Bustle. "Asking for accommodations requires disclosing disability and that leaves you at risk for being discriminated against, and I have lost jobs from asking for accommodations."
Though people who live with disability or chronic illness may face discrimination in the workplace, there are disability rights organizations and Protection and Advocacy Systems (P&As) across the U.S. that can help you advocate for your rights as an employee. Additionally, seeking out the advice from other people in the disability community can help give you a better idea of how to begin the conversation surrounding your needs at work with your own employer.
Here's how eight people tell Bustle they actually asked for accommodations in the workplace, so you can feel empowered when you go to work.