How To Avoid The 7 Fights From Hell When You're Traveling With A Partner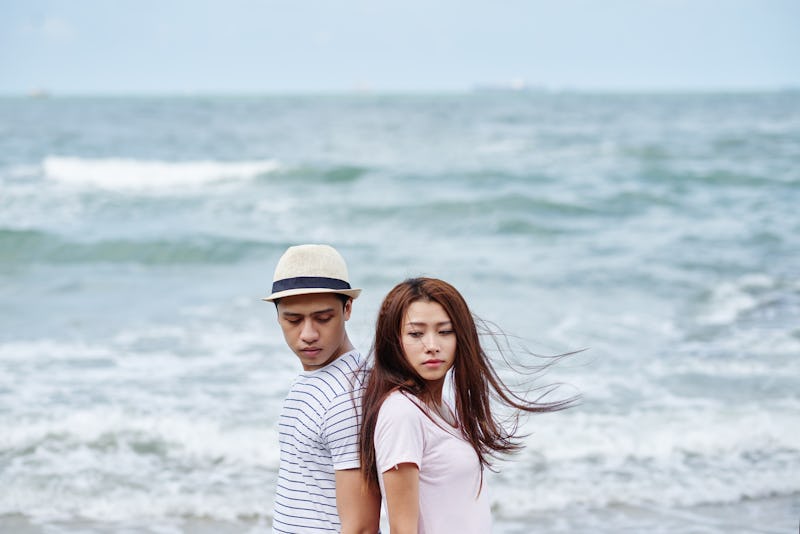 DragonImages/Fotolia
It's the moment you've been waiting for, and perhaps dreading (a bit) — traveling with your significant other. Maybe it's the first time you're traveling together, or maybe it's the hundredth. Whatever the case may be, there are several common fights couples have when traveling, and here's how to avoid them. After all, you're used to doing things your own way, but now you'll have to compromise. Maybe one of you is a night person while the other is a morning person, but if you want to actually spend time ~together~ on your trip, one or both of you will probably have to adjust to the other person's schedule.
"I highly recommend that if you haven't traveled with your partner, that you go on your honeymoon BEFORE the wedding," Johnny Jet, celebrity travel expert, tells Bustle. "You really get to know someone's true colors when you travel with them. Especially if it's a more difficult destination, say India," he says.
Genius idea, right? A recent study, too, discovered the importance of being travel-compatible, so to speak. Liligo, a travel comparison tool that helps travelers find the cheapest and fastest routes to their destination, did some research with YouGov last July. Over 1,000 people 18 or older were surveyed, with Millennials being in the 18-to-34-year-old range. Over one-third of Millennials agree that travel habits could make or break a relationship. As an avid traveler, I agree! And if you think back to trips you took with exes, or with your current partner, perhaps you agree, too!
So What's The Solution?
One answer is going on a practice trip first. "You may want to start off with a shorter trip first, say a long weekend instead of a seven-day vacation, in case things should happen to go south for whatever reason," David Bakke, travel expert at Money Crashers, tells Bustle. "That way, you can get back on your home turf and figure out what went wrong before lasting damage is done to the relationship." Again, genius advice — starting with a small trip could literally determine your future travel compatibility. I like it!
Below are common things couples argue about when traveling, and how to avoid them. Because, TBH, the whole point of vacationing — vacating from your regular life — is to have fun, not to fight. Right?!