May Is Breakup Season For Cohabiting Couples, So Here's What To Do if You Split Up This Month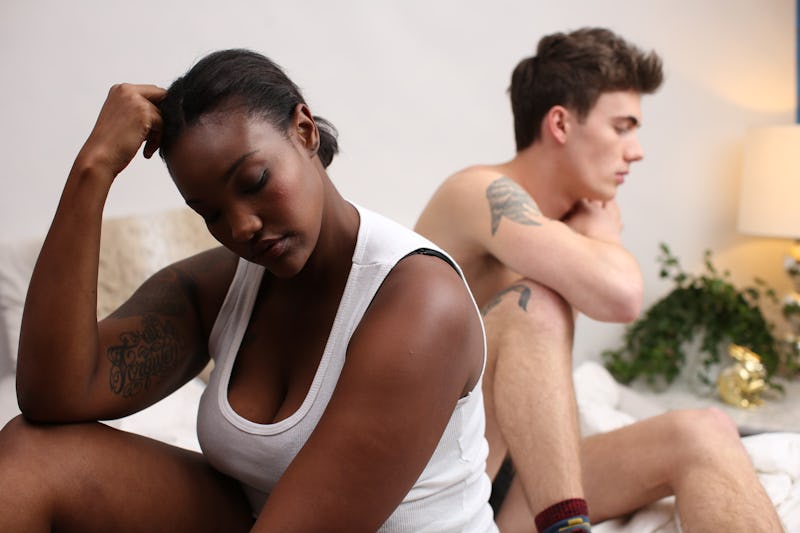 Ashley Batz/Bustle
There's a lot to get excited about as summer approaches, but for some, it can be breakup city. Spring marks the end of "cuffing season", aka when we couple up during the colder months and break up right when it starts getting warm, so some of those short-term winter relationships may be coming to an end. But cuffing season couples aren't the only ones splitting this month. It looks like May is also breakup season for long-term couples — especially those who live together. Dumbo Moving, an NYC-based moving company, has seen a 10 percent increase in couples splitting up and moving out in May.
Ideally, you had a long chat with your partner about expectations before you ever moved in with them, so you knew what would happen if you broke up, but that's not always the case, as Dumbo Moving has witnessed.
"People get weirdly attached to items, like clocks or bathroom scales," Lior Rachmany, Founder and CEO of Dumbo Moving, tells Bustle. "I think people feel if they can score more items after a break up than they are the victor."
As clinical psychologist Janna Koretz, Psy.D, tells Bustle, discussing potential issues before you move in together is a great way to avoid conflict down the road.
"When we move in with someone, we know at least some things about them," she says. "Of course, we can't anticipate everything, which is why communication, post-move, is also key. Being able to calmly address things as they come up over time will significantly improve relationship satisfaction." It sounds really mature, but what if things don't seem to going according to plan?
Here are some tips for dealing with a breakup if you live together, according to experts.