Follow This Kylie Royal Peach Palette Shopping Tip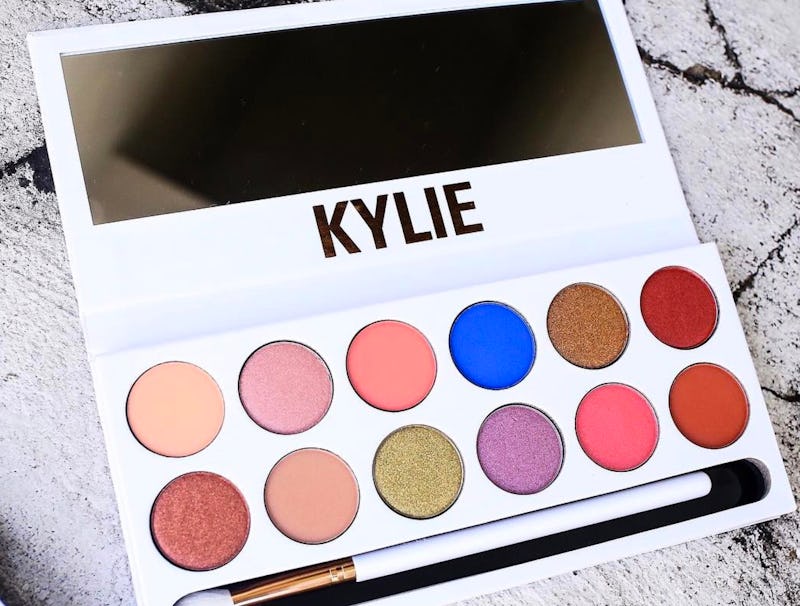 Nine minutes. That's how long it took Kylie Cosmetics Royal Peach Eyeshadow Palette, or Kyshadow Palette, to sell out upon launch earlier this month. The good news is that the first Royal Peach Kyshadow Palette is restock on Thursday, Jan. 19 at 6 p.m. ET/3 p.m. PT, so Kylie-philes have another chance to grab the collection. I am ready and willing to share a foolproof shopping tip that will help customers eager to snag this palette be successful in their quest.
First, let's remember that Royal Peach hot commodity for a variety of reasons.
The palette, featuring 12 pans of peach, pink, and blue shades, among others, is Kylie Jenner's third permanent Kyshadow palette. It featured several major changes from the previous Kyshadow palettes, such as the inclusion of a brush, a mirror, and three additional shades, since prior Kyshadow sets only contain nine colors.
How can you avoid being shut out during the shopping frenzy and expected sellout? Relax, we've got this, since I have tons of experience doing this.
Product debuts are accompanied by additional hype — there are more curious shoppers, returning casual customers who haven't shopped in a while, and diehards who want to grab new products first and right away.
The restock will be surrounded by mania, but it will feel slightly less "crowded" than the product premiere.
What can you do to beat the restock rush?
It's simple and here's what worked for me. Create an account at the Kylie Cosmetics site RIGHT NOW. Enter your name, shipping details, credit card information, and boom. With all of that info already saved in the system, you won't waste precious seconds filling it out and risk having other shoppers butt in front of you in the digital line. Also, entering data beforehand lessens the chance of making a critical mistake or typo.
I also recommend shutting down other browsers and digital distractions in a responsible way and open a single tab to the Kylie Cosmetics site 10 minutes prior to launch so you are ready, focused, and able to shop quickly. That said, don't shirk work duties or ignore the siblings that you're supposed to be minding.
Those two tips really do work. You will save valuable time when you have an advance plan.
The shadows come in matte, satin, and metallic finishes. That means you can create eye looks for days.
Good luck grabbing one of these palettes during the restock.
Images: Kylie Cosmetics/Instagram (3); Courtesy of Kylie Cosmetics (2)