How To Celebrate National Cheese Day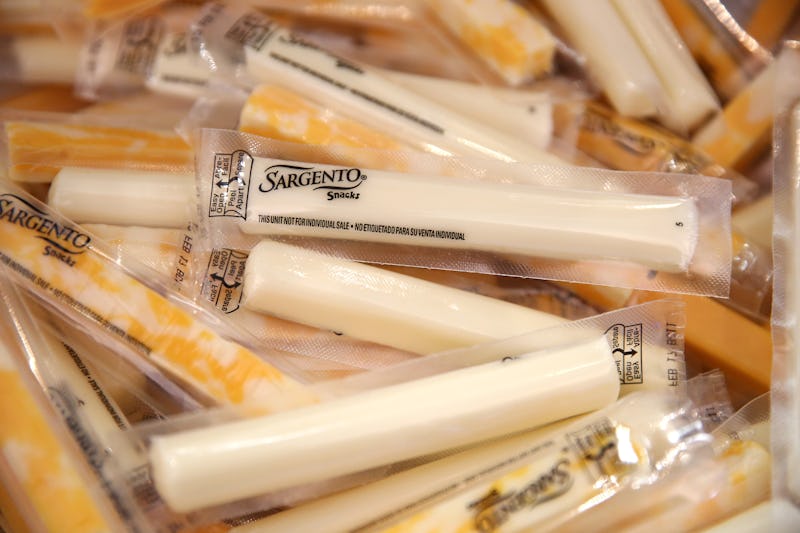 Monica Schipper/Getty Images Entertainment/Getty Images
Not to be a cheese elitist or snob, but if you don't already know how to celebrate National Cheese Day on June 4, you can't possibly love cheese as much as I do. I mean, do you really need someone to hold your hand and help you figure out how to show your appreciation for cheese? And besides the obvious thing to do, which is to get a giant tattoo of your favorite cheese on your chest, over your heart, I don't have many other suggestions for you. I can't teach you how to love. You're either born with a heart big enough to respect cheese, or you're not.
OK, but cheesy jokes aside, there really are so many ways to celebrate National Cheese Day, it's crazy. Whether you're in the mood for entertaining, feel like pigging out on your own at home or want to go out into the world and have a cheesy experience, there are so many grate options. Sorry, not sorry.
Here are a few suggestions for how to make Sunday, aka the holy cheese day, aka, June 4, the cheesiest and most fulfilling Sunday Funday you've had all year. Hint: these suggestions require a trip to the dairy aisle.
Fondue Party, Duh
Fondue is one of the classiest ways you can eat cheese. If you don't have a fondue pot, go out to a restaurant that does. This is luxe cheese eating, for sure.
Perfect Your Cheese Board Game
Whether you think you already make a mean cheese board or have never even tried your hand at it, spend the day perfecting it with these tips French Cheese Board shared with Bustle. Try out new cheeses, new cuts, and mix in new fruits, nuts, and other arrangements.
Head To The French Cheese Board
If you have access to New York City, head to the French Cheese Board in SoHo and sign up for a class, tasting, or lecture to up your cheese intelligence. Also, enjoy buying cheese from a salesperson that is more than happy to talk with you endlessly about cheese.
Make Your Own Cheese
It's actually not that hard to make your own cheese. And if you're as big of a cheese fanatic as you say you are, don't you think you should have some DIY cheesing under your belt?
Visit A Dairy Farm
Look up your local dairy farms and call around to see which ones have visiting hours. Take some time to drive out to one and see how it all happens. It's educational, and also a lot of fun.
Go On A Cheese Culinary Adventure
Expand your cheese palette. Try a cheese from a sheep or a goat. Try a stinky cheese. Try a gooey cheese. Try a cheese that's older than anyone you know. Be adventurous in the dairy aisle. You never know, you might meet your new favorite cheese.
Get Weird With Cheese
You know all of those crazy overly cheesy recipes you see online and think, even for a cheese lover, they're too cheesy? Yeah, find one of those recipes and go for it. It's a holiday! Why not?
Read The Stinky Cheese Man
Run, run, as fast as you can, you can't catch me, I'm the Stinky Cheese Man. Bet you never thought as an adult that The Stinky Cheese Man would be the closest thing to your Prince Charming that you could imagine.
Name Your Own Fantasy Cheese
Just for fun, think up a few cheese names and characteristics. Where will it be from? What kind of milk will it be made from? Will you name it after yourself? After an object? How about Chez Cheese, the fictional house cheese of France? Be as creative as you can be.
Watch A Cheesy Rom Com
Why not though, right? As if you ever needed an excuse to stay in and watch a cheesy movie, here it is. Your own take on National Cheese Day, dairy-free version.
Have A Cheese Potluck Party
If you want to eat a ton of cheese but don't want to spend a ton of money or time cooking, have a bunch of friends over for a potluck. It's a great opportunity to learn about new cheeses and dishes, too. Have your friends bring their favorites and go around in a circle introducing all the cheeses.