How To Change Your Facebook Photo To Support Manchester Victims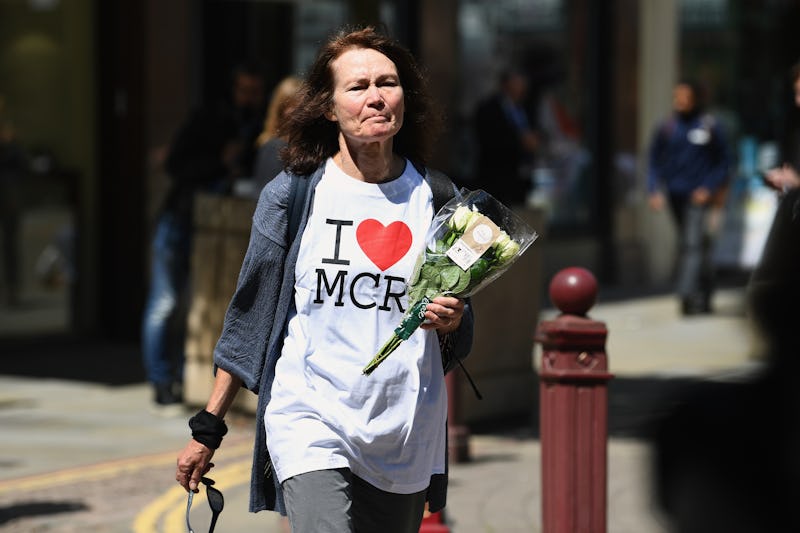 Jeff J Mitchell/Getty Images News/Getty Images
News of a terrorist attack at an Ariana Grande concert in Manchester rocked on the world Monday. By Tuesday morning, 22 victims were confirmed dead, along with nearly 60 others reported injured. The situation was only made worse by details of the victims, specifically their young ages. At the time of this writing, three of those among the fatalities have been identified: 8-year-old Saffie-Rose Roussos, 18-year-old Georgina Callander, and 26-year-old John Atkinson. Like many people, you're probably wondering how you can help the families of these victims. One of the easiest ways to do so is by changing your Facebook profile to stand in solidarity with Manchester.
One option you have is to add a badge to your photo, or a small symbol to the corner of your picture. A great site to do this is Twibbon. Though the name suggests it's a platform tailored for Twitter, it allows users to log in by using either Twitter or Facebook. Once logged in, you can either choose to start your own campaign or join someone else's. At the moment, there is no shortage of campaigns dedicated to the Manchester tragedy, with many using the hashtag #PrayForManchester. Click on the campaign with the symbol you're most drawn to; the next step will be for your to click "Add to Facebook," and follow the simple steps you're prompted with.
If you don't identify with any of the symbols being used by currently active campaigns, you can create your own in minutes through three simple steps. Just find an image to your liking and get started.
Possibly the simplest way to show support with your profile picture is to simply upload a Manchester-themed image rather than editing the photo you're already using. There's a plethora of memes circulating on social media touching on the tragedy, many of them in heart shapes. One popular image is of a ribbon donning cat ears, an accessory Ariana Grande is known for wearing often. Choose the one that speaks to you the most and upload it to your Facebook (or any other social media platform) as you would any other photo.
While changing a profile picture may seem like too small an action to make a difference, there's no doubt that the countless people mourning their children, siblings, or friends would find comfort in seeing support from around the world and knowing that they're not alone in their suffering.
Here are more ways you can help.