This Is The Next Big Unicorn Food Trend To Watch Out For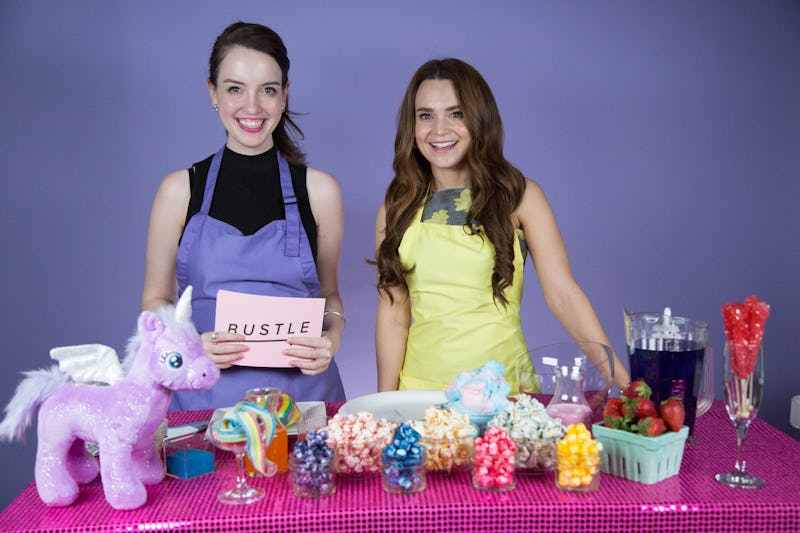 Lauren Betesh/Bustle
In case you thought we, as a sophisticated society, had hit peak unicorn, Rosanna Pansino is here to show you otherwise. During a recent visit to Bustle's New York headquarters, it only took the YouTube star three minutes and a hodge-podge of sparkly, candy-colored ingredients to come up with a brand new unicorn food idea to watch out for — a unicorn bagel sandwich.
"Every unicorn has a mane," Pansino said as she stuffed tuft after tuft of cotton candy into the center of a perfectly swirled rainbow bagel held together with birthday cake cream cheese. "Sometimes it's cotton candy colors, and then other times they kind of look like Khaleesi."
To say Pansino has a knack for transforming every day foods into fantastic feats is an understatement. The YouTube star's online baking show Nerdy Nummies boasts a mind-bending eight million subscribers and 1.8 billion lifetime views — which means she knows a thing or two about turning pop culture phenomena into sweet, edible treats (please see: her Lego marshmallow pops, her Teen Wolf cake, and these Game of Thrones-inspired dragon egg truffles). And so, when Bustle challenged Pansino to come up with the next big viral unicorn food trend to top the Starbucks Unicorn Frappuccino responsible for consuming the collective internet earlier this spring, she barely blinked an eye. "Unicorns are obviously magical," she tells Bustle. "That's a fact."
The rules of the game were simple. Pansino had five minutes on the clock to come up with something immediately Instagrammable, and also universally delicious. Ultimately, she took a rainbow bagel, birthday cake cream cheese, cotton candy, an abundance of glittery sprinkles, and rock candy, and turned it into — ta da! — a unicorn bagel sandwich that checked off all the boxes. (Check out the full video below to see what that looks like. Spoiler: it's ah-mazing.)
Of course, the prep work that usually goes into Pansino's creations requires more than five minutes lead-up. In fact, she says she spends upwards of 70 hours in the kitchen with her team creating the videos that have amassed her an enormous YouTube following — and even when she's not at work, she's still thinking about it. Inspiration seems to follow her, always. "Sometimes, it just hits me in the middle of the night," she tells Bustle. "This is a weird story, but sometimes I will wake up at 3 a.m. and I'll just get an idea. For me, the creativity won't shut off, and it's actually one of my issues. It's not having a lack of ideas, it's having too many ideas."
If you're interested in trying your own hand at making the next big kitchen masterpiece Instagram goes wild over, you're in luck. Pansino is partnering up with Wilton to launch her own baking line called Ro. The collection will feature everything from kitchen tools and baking molds in cute and whimsical shapes to colorful sprinkles and other decorating must-haves. Basically, it's everything Pansino wishes she had with her in the kitchen when she first started baking. "I wanted to create things that I wanted to exist but didn't exist, and then I'm also making traditional pieces like bowls and spatulas," she says.
While your new creation may not instantly boost you to YouTube fame, Pansino has a few tips for how to get there in the future. The first step? Find a platform to show off your skills, whether that's YouTube, Instagram, or your own personal website. Then, start posting — often. "Stay consistent," Pansino says. "Keep uploading. Don't upload a bunch of videos for a week, and then disappear for four months, because people will wonder 'where'd you go? Come back! What's going on?'"
Most importantly, though, make sure you're posting content you're passionate about. Otherwise, your audience will see right through you... and disengage. "The best advice I could give anyone who's interested in creating their own content or making their own channel is to make things that you love," Pansino says. "People are very intuitive. They're very smart. They can tell when you love what you're doing."
And if unicorns just so happen to be your passion? Pansino is here for it. Just make sure to always have sprinkles — lots and lots of sprinkles.