9 People Reveal How They Politely Turned Down Being In Someone's Wedding Party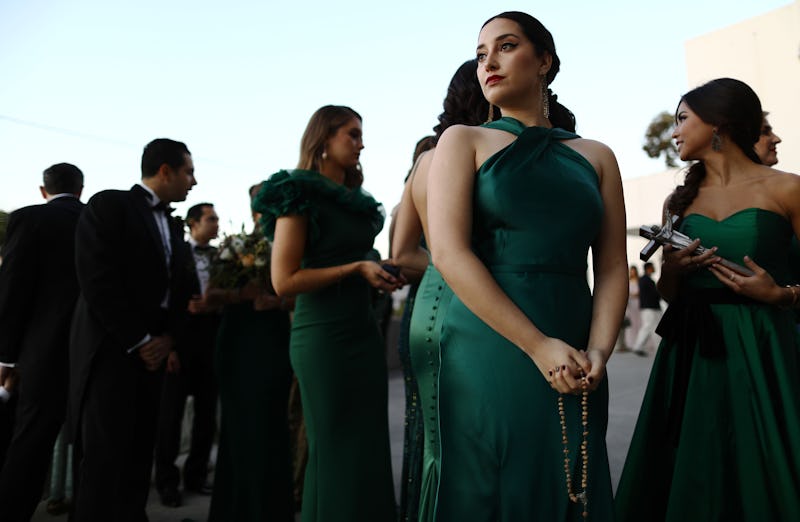 Mario Tama/Getty Images News/Getty Images
Being a part of someone's bridal party might seem like the highest honor, or a total nightmare. It really depends on who you ask. But if you are someone who would prefer not to participate in the festivities so up close and personal, that's really OK. While being asked to be involved in the wedding party might seem like an impossible thing to say no to, knowing how to politely decline being in the bridal party might be necessary at some point in life. Especially if the bridal party clothes aren't in your color, amirite?
No, but really. It is OK to say no. And as Jen Doll, the author of Save the Date: The Occasional Mortifications of a Serial Wedding Guest told Mental Floss, there have been a wide variety of reasons that people have had a crew behind them on their special day, and it's not just because they want emotional support from pals and loved ones. In ancient Roman weddings, Doll writes, "the matron of honor was a moral role model, known for fidelity and obedience." And in Victorian times, Doll writes, bridesmaids were tasked with making party favors and were also expected to walk down the aisle not with flowers, but with a a mix of garlic, herbs, and grains in order to get rid of evil spirits!
These wedding tasks and festivities might just not be for you, and trust, that's just fine. Below, eight people share how they said "no thanks" to being in the bridal party.