Here's How You Can Help Parkland Survivor Sydney Aiello's Family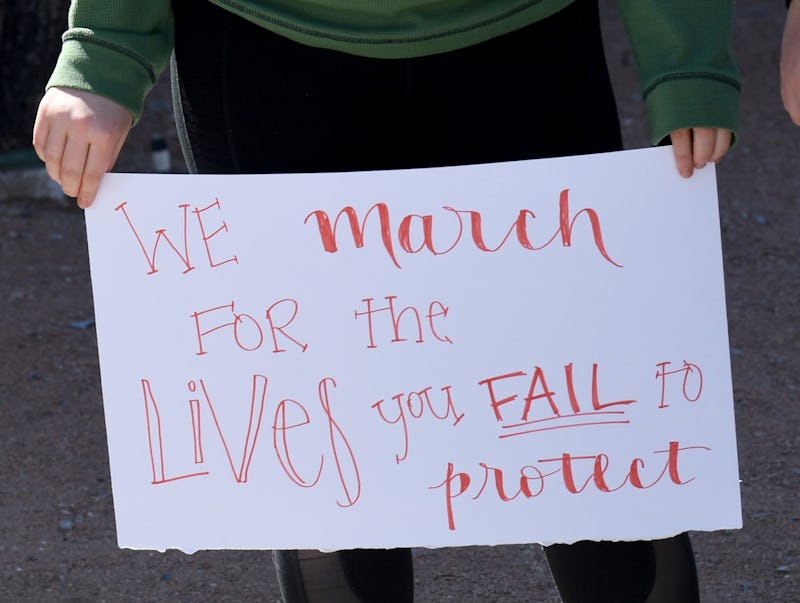 Ethan Miller/Getty Images News/Getty Images
A 19-year-old Parkland shooting survivor died by suicide a week ago, and was buried on Friday. Now the community — and the country — are coming together to help her family during the difficult time. Here's how to donate to Sydney Aiello's family and help honor her legacy. A GoFundMe campaign has been set up with a goal of $20,000; it's already been way surpassed in an outpouring of support.
The Miami Herald reported that Aiello's family said she killed herself because of survivor's guilt. Aiello had also recently been diagnosed with post-traumatic stress disorder (PTSD). The GoFundMe, though, focused more on happy memories.
"Sydney spent 19 years writing her story as a beloved daughter, sister and friend to many," the page reads. "She lit up every room she entered. She filled her days cheerleading, doing yoga, and brightening up the days of others. Sydney aspired to work in the medical field helping others in need. On March 17th, 2019 Sydney became the guardian angel to many."
The fundraiser was first shared on Friday, and already 2,678 people have donated. Many have left messages of support on the campaign's wall, comparing what they're going through with their kids or sharing stories of struggle with PTSD.
According to CBS 4 Miami, Aiello's mom said she had been struggling to attend college classes at Florida Atlantic University recently. She was afraid to be in a classroom.
Aiello was friends with Joaquin Oliver and close, longtime friends with Meadow Pollack. Both were killed in the Parkland shootings.
Pollack's father, Andrew Pollack, told The Miami Herald that his heart is with Aiello's parents. "It's terrible what happened. Meadow and Sydney were friends for a long, long time," Pollack told The Herald. "Killing yourself is not the answer."
He also offered himself as a resource to other Marjory Stoneman Douglas students and alums who might be feeling the same way. "If anyone feels like that they have no one that can understand their pain, if there's any student out there that's having a hard time, please reach out to me on Twitter," Pollack told The Herald. "I understand you. You aren't alone."
Other Parkland parents have spoken out on the importance of suicide prevention, especially among the students that have undergone such a trauma. Ryan Petty, whose daughter Alaina died in the shootings, told CBS 4 Miami that he wants parents to have more resources to help students who are struggling.
"It breaks my heart that we've lost yet another student from Stoneman Douglas," Petty told CBS 4 Miami. "My advice to parents is to ask questions, don't wait. Some of the questions that need to be asked are – do you wish you were dead and not wake up? Second question — have you had thoughts of killing [sic] herself?"
There are also resources available to members of the community in Parkland, provided by the Children Services' Council of Broward County, that can help support students and families affected.
Meanwhile, there's plenty of support online for Aiello's family. David Hogg, one of the most visible March for Our Lives activists and a classmate of Aiello's, also tweeted a link to the GoFundMe. He added, "May she Rest In Peace."
If you or someone you know are experiencing suicidal thoughts, call 911, or call the National Suicide Prevention Hotline at 1-800-273-8255.