Ban.do's New Sticker App Is About To Make Your Texts So Much Cuter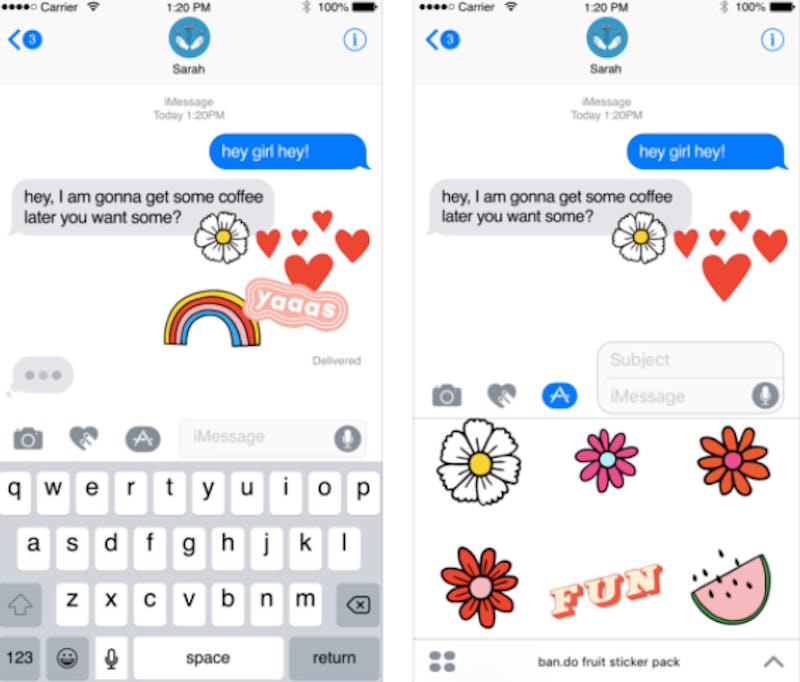 ban.do
Some things are better left said through photos. There's a reason "a picture is worth a thousand words" is a century-old saying. Full-on conversations can keep going purely on emojis and stickers, and brands are totally catching on. Ban.do's new sticker book app is the brand's new brainchild, featuring the cutest, most playful stickers to up your texting game.
With ban.do hitting success with everything from agendas to pool floats — and most recently, workout gear — it only makes sense that they've made their way to the app world. Click through their site and you'll find the most enviable merch, not just because of their fun designs, but functionality and affordability as well.
Now that they've got their playful design game down to a T, they're bringing those designs straight to our thumbs and keyboards. Emojis and stickers have become so popular, in fact, that there's there's an actual emoji day (and it just passed on July 17). An emoji or sticker is a pretty powerful thing, so it's no wonder ban.do decided to launch such a genius app.
Your text messages are about to get so much cuter.
Are you obsessed yet?
Flowers, watermelons, and some text are just a few of the options that the sticker book app offers.
To get the app, click on the app store function on your keyboard.
Search for "ban.do."
Download it.
Turn on images.
And start using them!
A rainbow, egg, and blinking eye sticker are some of the cuties you can find in this book, animation included.
Visit bando.com and you can find ban.do's physical sticker books as well, like an alphabet collection, star and rainbow stickers, and even really cute rolls of tape reading "you are all the good things," you seriously can't lose," and "you are the best of the best." The super cute stickers are a fan favorite on Twitter and Instagram. By the way, they're 15 percent off this week, in case you're looking to stock up.
But, if you're more of a digital type, the new sticker book app is for you. And the best part of this app is you can keep reusing them, guilt-free!
Just imagine how fun your group chats are going to be with this one — so hurry up and get to the app store!