Sleep Experts Explain How To Fall Back Asleep If You Wake Up In The Middle Of The Night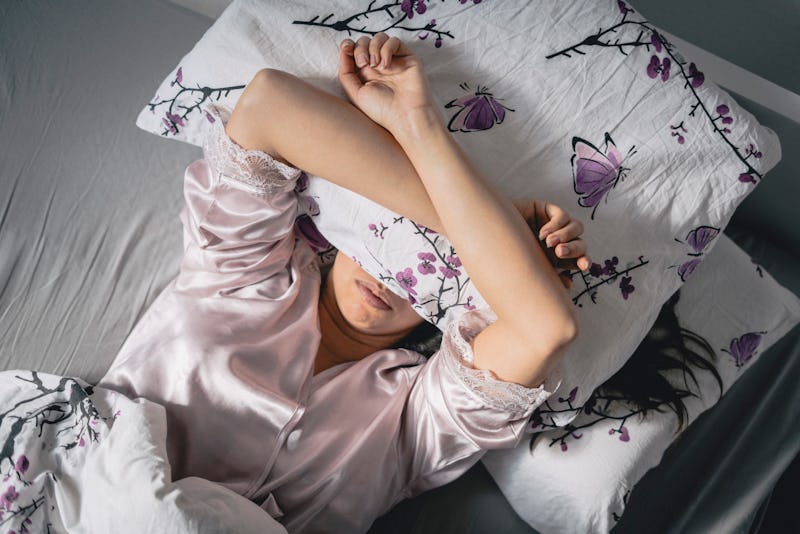 iz ustun/Moment/Getty Images
There's nothing more frustrating than falling asleep only to wake up a few hours later. Whether it's from a blaring car alarm, a snoring partner, or stress dreams, having your sweet slumber disturbed is nothing short of a nightmare. Of course, there are ways to get back to sleep if you wake up in the middle of the night, but you may want to first determine what's waking you up in the first place.
For instance, even though that glass of wine might make you drop off in front of a Veep rerun, alcohol can mess with your ability to stay asleep. "Alcohol is notorious for disrupting sleep," Dr. Jennifer Caudle, M.D., a family physician and associate professor at Rowan University School of Osteopathic Medicine, tells Bustle. "Even though alcohol may make us feel sleepy and ready to 'hit the sack,' sleep is often interrupted and of poor quality when alcohol has been involved — so an immediate benefit of not drinking might be feeling more rested and getting better sleep at night."
Alcohol isn't the only reason you may be hitting pause on your dreams — stress or anxiety, disorders like sleep apnea, or other issues can keep you from staying asleep, according to the Mayo Clinic. And if your inability to keep snoozing is more than an occasional thing, you'll want to talk to your doctor to figure out if there are other factors at play. But if you're just up at 4 a.m. on occasion, we asked experts to weigh in on how to get back to sleep.
This article was originally published on