Women Will March In Solidarity Across The Country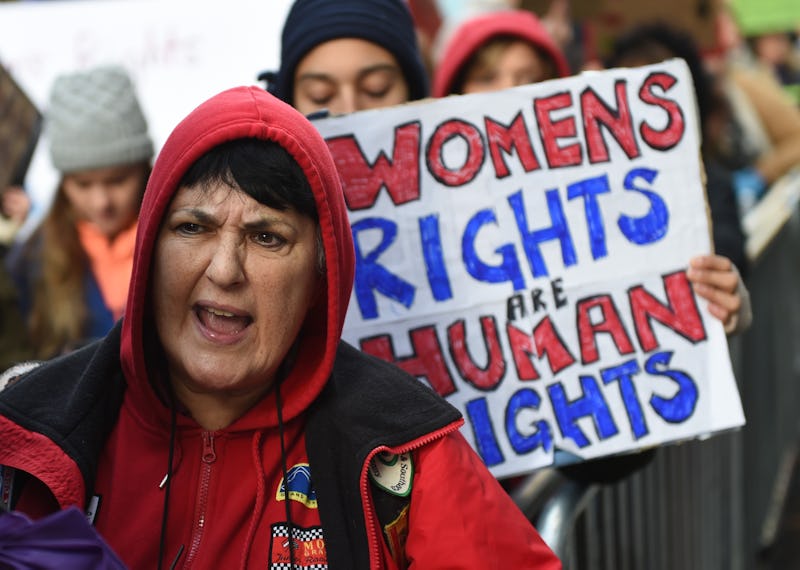 TIMOTHY A. CLARY/AFP/Getty Images
As President-elect Donald Trump works out the final details for his inaugural weekend, it's time to start finalizing some plans of your own. Hundreds of thousands of women are expected to greet Trump in Washington on his first full day in office with the Women's March on Washington. But what if you can't drop everything and head to Washington to show your support for protecting women's rights? You can show your solidarity with those marching in Washington by attending an officially recognized sister march. Finding a Women's March on Washington event near you is easy.
While the Women's March on Washington is set to take place Jan. 21 at the intersection of Independence Avenue and Third Street SW in our nation's capital, there's no reason you can't participate just because you can't make it to Washington. As march organizers hammer out last minute details for the main event in Washington, sister marches are being planned around the country. From Alaska to New York, sister marches are scheduled to occur in almost every state as a show of solidarity with those marching on Washington. You can easily check what sister marches have been planned in your state through the Women's March on Washington's official webpage.
Don't live in the United States? Set to be on an international vacation come Jan. 21? You may still be able to attend a sister event. Sister marches have also been planned for Amsterdam, Auckland, Barcelona, Berlin, Brussels, Copenhagen, Frankfurt, Geneva, Oslo, Ottawa, Toronto, Paris, Rome, Sydney, Vienna, and Wellington.
If a sister march hasn't been planned in your city, consider reaching out to Women's March on Washington organizers to see how you can help get the ball rolling. However, if it's Washington or bust for you, Women's March on Washington organizers have also made it easy to look for a carpool or group bus headed to the main march from your state.
While the Women's March on Washington has been planned for Jan. 21, the first full day of Trump's presidency, organizers have stressed the event is not meant to be an anti-Trump protest. Rather the march is meant to show the president-elect the strength of those supporting the preservation and advancement of women's rights.
However, neither the Women's March on Washington or any of the dozens of sister marches being planned across the United States are limited strictly to women. In fact, organizers told the San Francisco Chronicle, that part of the idea behind the march was to show anyone feeling powerless or uneasy by the promises and policy proposals Trump made on the campaign trail that they're far from alone and there's strength in numbers. Along with making a bold statement on women's rights, march organizers have said they're hoping to send a message of support for other vulnerable groups, including immigrants, Muslims, and the LGBTQ community.