You Need To Hear Gloria Steinem & Amber Tamblyn's Advice For Getting Equal Pay Right Now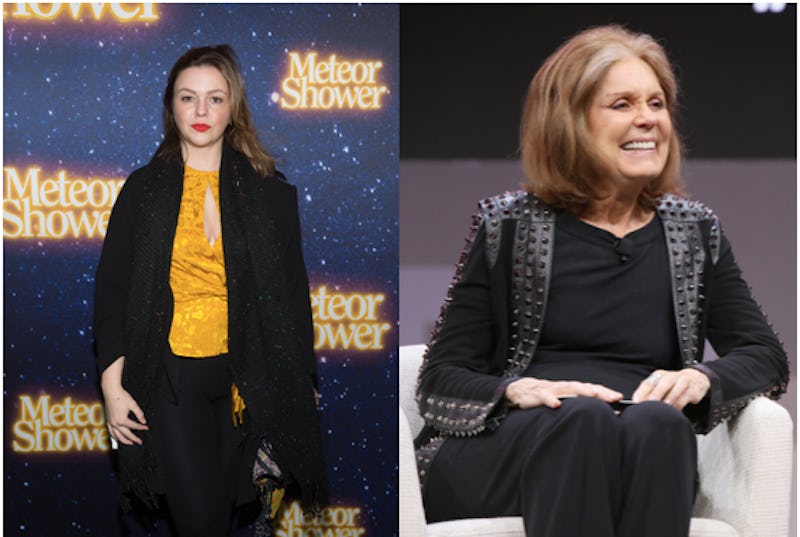 Getty Images
No matter how many times you've heard this stat before, it's still sobering: according to the National Women's Law Center, the average, full-time white working woman in the United States earns only 80 cents for every dollar a male makes. The gap is even larger between women of color and men. Over the last few years, celebrities have spoken out about equal pay (including Jennifer Lawrence, Ellen Pompeo, and recently, Catt Sadler), and the issue has moved into the spotlight. But that doesn't mean the problem is fixed — far from it. So listen up when two feminist game-changers, Gloria Steinem and Amber Tamblyn, offer advice for women on how to demand the pay they're worth from their bosses.
"If you're already working there, my advice would be to get everybody to tell their salaries," says Steinem, speaking at the 2018 Makers Conference in Los Angeles hosted by feminist media brand Makers. "Actually, it's the one thing we know, how much we make. And people don't share that knowledge so we don't find out where the unfairnesses are."
The political activist and icon offers different advice for women seeking jobs , though. "But of course, women already established in their roles shouldn't be discouraged about earning what's fair."
Tamblyn, meawhile, has written multiple, powerful New York Times op/eds about the subject of gender equality, including "I'm Not Ready for the Redemption of Men" in November 2017. When it comes to getting equal pay, the actor's advice is to fearlessly go straight to the source.
"You have to look at who's making the decision. Who's on the board? It needs to be brought up," says Tamblyn. "Maybe you talk to other women internally and form a little mini proactive army and you figure out a way in which you can have a larger, scarier conversation with the people at the very top, and tell them they need to walk the walk."
As she points out, these conversations can certainly be tricky, and often times, they're easier said than done. Yet the common ground in both of the women's advice is that money shouldn't be such a scary topic. Speaking about it more freely, even with co-workers and higher-ups, is what's most effective, because knowledge is power.
Luckily, there have been women who've disclosed going through this process to inspire others to do the same. Recently, Catt Sadler quit E! after learning her male co-host Jason Kennedy was making nearly twice her salary (even though they'd been at the network for about the same amount of time). At the time of Sadler's announcement, Tamblyn supported the TV host on Twitter.
While Tamblyn says now she applauds Sadler for her decision, she still believes it was on other people at the network to step up, saying:
"Anybody that is complacent or complicit in the mistreatment of women must be held accountable. For instance, I don't think that it was Catt's responsibility to talk about the pay disparity and to bring that up and to fix it. I really believe it was on people like the men that work there. And that's part of the biggest problem, we constantly look to women to fix everything, women in positions of power even more so because there are so few of us. Rarely ever do we look to men."
According to Tamblyn, there is simply no excuse for men in the workplace to remain silent at this point. "You have a place in this, you definitely do," she says. "Figure it out." The actor supports stars like Eva Longoria and Debra Messing, who confronted E! at The Golden Globes. "People keep saying, 'Why doesn't everyone boycott these things?' And really it's like, inaction is not action," Tamblyn says. "We've been quiet enough. I would rather use our platforms and our power, our muscle, to facilitate difficult conversations... One of the ways we can do that is to use things like the red carpet for spaces like that."
Meanwhile, Steinem's input on E!'s pay disparity is a different approach. "We should pick at them and boycott them and no woman should work there," Steinem says. "It's like they took out a big ad that said, 'Never work here.' I mean, I have never gone on Fox."
Both Steinem and Tamblyn's points of view mean business, and their advice will help women in any profession ultimately seek the earnings they deserve.