How To Get Free Shake Shack Until Feb. 28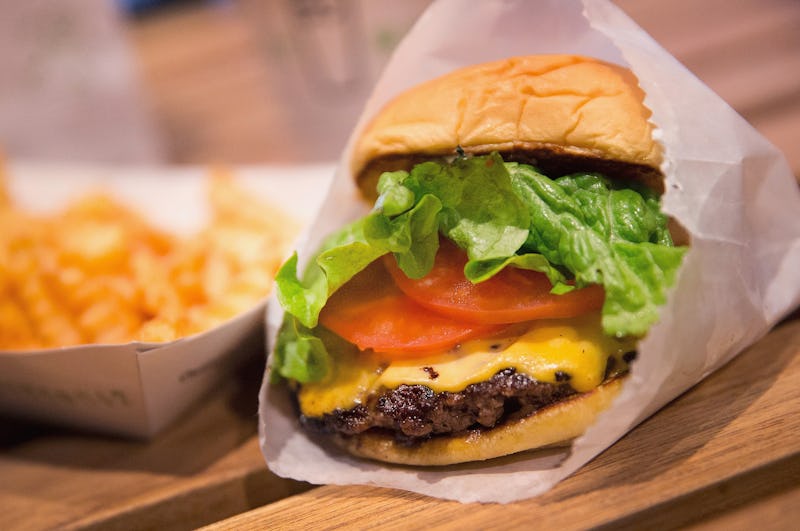 Scott Olson/Getty Images News/Getty Images
Not sure what to have for lunch today? Shake Shack has solved your midday conundrum by offering a juicy, all-natural burger on the house, redeemable through Feb. 28th. Hungry weekday warriors need only to read on to learn how to get free Shake Shack, and satisfy their appetite at a discount with a simple tap of a button.
It has been scientifically proven that free food is a great motivator (really — an actual study backs it up), and Shake Shack is using this special sauce to encourage iPhone users to download their new Shack App. According to a press release by the company, all first-time users of the Shack App for iOS will receive a free ShackBurger at any U.S. location (with the exception of those in stadiums, ballparks, or airports). All it takes to stop those hunger pangs is downloading the Shack app, creating an account, and entering a promo code. The promotion is currently only available to iOS users, but according to a Shake Shack spokesperson, an Android version may soon be on the way.
Even if there wasn't free food on the line, Shack fans would want to download this mobile ordering system anyway. The app allows you to skip the hassle of Shake Shack's long lines and wait times by allowing guests to select their preferred available pick-up time from a list of 15-minute windows. Your frozen custard won't melt while you rush over to grab your order; the app will text you when the order is all ready for pick-up.
So if you're a sucker for those pillowy potato rolls, here's how to get your free ShackBurger: