You Can Get Life Coached By 'Big Brother' Star Kaitlyn... If You Have The Cash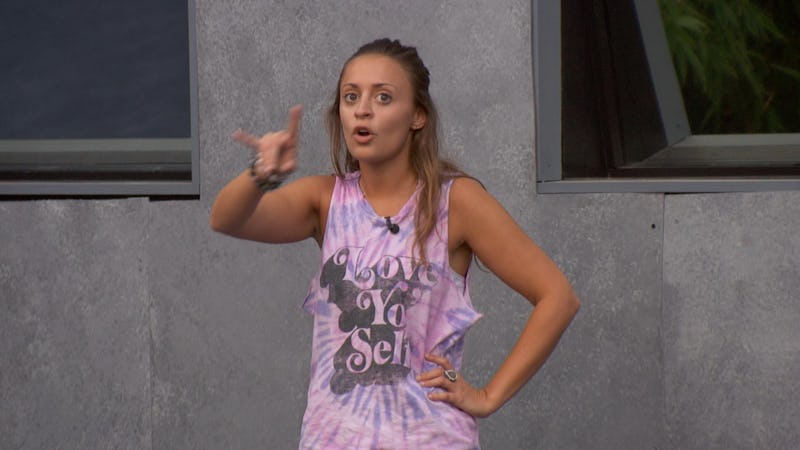 CBS
While some houseguests choose to hide the nature of their real life career on Big Brother, Kaitlyn's job as a life coach has been a frequent topic of discussion. She's lead guided meditations with her fellow houseguests, talked about her love of crystals, and bragged about finding her calling at such a young age. And, if you're interested in seeing what her calling can do for you, you can hire Kaitlyn as your life coach after Big Brother — but it will cost you a pretty penny (or thousands of them).
Kaitlyn's website, which is called Kait Coaching, is totally up front about the cost of her services. Booking her can run you anywhere from $2,700 to $11,000 depending on what type of program you select. She offers three-month, five-month, and 12-month sessions. Depending on the program, your money goes towards things like regular coaching sessions, guided meditation, Kaitlyn's cell phone number for "emergencies," and essential oils.
There's controversy around Kaitlyn's presence in the house that might impact your interest in her services. Per Us Weekly, she was captured on the live feed using the n-word while quoting a Drake song, after CBS issued a language warning to the houseguests. Bustle has reached out to the network for comment about the slurs used on camera, but has not received a response.
But she evidently takes her job very seriously, and asks that her clients do too. It's likely that her high prices are meant to reflect not only the work she puts into coaching you, but also serve as an attempt to ensure applicants really want to work with her.
"Since I take this relationship seriously, and guarantee 100 percent success, this service is meant for people who are ready for positive changes," she wrote on her site. "I put a lot of energy and passion into each of my private clients, so I expect the same energy and passion back."
You can't just sit back and be life coached, OK? You have to put in the work.
In a blog post, Kaitlyn elaborated on how she approaches a client/coach relationship. "I will rarely tell a client what they have to do. Instead, I provide questions that help the client realize that they have the answers within themselves," she wrote, adding, "I will usually provide a client some sort of homework assignment based on the goals we've made together."
If you're passionate about Kaitlyn's passion, you can submit an application to be taken on as a client. But, if you can't drop thousands of dollars right now, she does have some free advice. Kaitlyn has written a number of blog posts that offer readers insight into how to stop procrastinating, be happier at work, and learn how to manifest, among other topics. She also offers a "complimentary 30 minute discovery call," which you can apply for here.
Kaitlyn revealed in her CBS bio that her work is super important to her, but she just happened to stumble on it. "Years ago, I went to a psychic medium with the hopes of connecting with my deceased grandfather," she said. "But the medium surprised me by revealing I would soon be one of the most influential self-help women in the world."
She may not have quite hit that goal yet, but there's still time. The 24 year old only began her life coaching business at 23. She explained to her fellow houseguests in a video clip that she feels very fortunate to have figured out her purpose early in life, and she wants the same for her clients. "That's part of my gift, I know what your purpose is," she said of her coaching skills.
She can help you find your purpose too — provided you have a few thousand dollars burning a hole in you pocket...