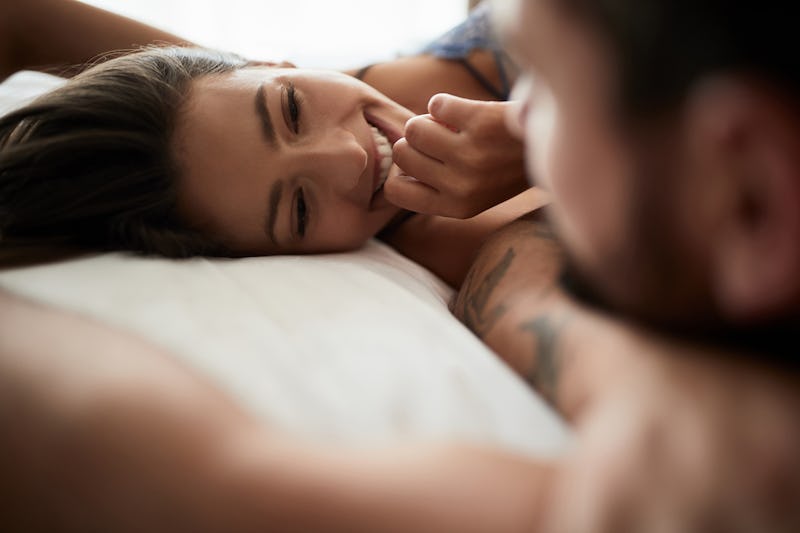 Shutterstock
The hand job: some people with penises love them, while others don't understand the appeal, believing the act is merely masturbation with someone else's hand as a placeholder. I happen to subscribe to the former group; while, sure, anyone can give themselves a good hand job to completion, there's a lack of intimacy when another person isn't present, and that, for me, is enough to solidify a fondness for it — but generally only as a means of foreplay. (I will, however, settle for a discrete handy should that be the only viable option given the circumstance, i.e. under a blanket on a road trip.)
I've been on the receiving end of enough hand jobs to know what's being done right in terms of technique. I also happen to be OK with my own hands because, well, I was very single for a while. And if my expertise wasn't enough, Bustle interviewed a sex expert to also give some pointers on how to give a good hand job to someone with a penis. So with that, I present to you a guide to how to give a hand job, complete with hand job tips, and a better idea of what you probably shouldn't ever do.
1. Engage With Your Partner
If you appear completely disinterested in what's going on while giving your partner a hand job, this may make them feel insecure about themselves. Some ways to perk up a standard handy are to: (1) look at your partner as you stroke, (2) lube them up with spit. It really doesn't take much.
If you're feeling uncomfortable with engagement during a hand job, communicate with your partner and ask them what they like. Ask for affirmations like, "does this feel good when I do this?" Or you can listen to the sounds of the moans and breathing to give you some encouragement to be confident during the act.
2. Remember The Head
When it comes to hand job 101, make sure you're addressing the most sensitive part of the penis — the head. This will for sure give your partner some pleasure while you're going for it.
"The part of the penis that is most endowed with nerve endings is the head (it is the most closely comparable part to the clitoris)," Dr. Carol Queen, Good Vibrations staff sexologist and author of The Sex & Pleasure Book: Good Vibrations Guide to Great Sex for Everyone, tells Bustle. "This is especially true if the person is uncircumcised and still has a foreskin — it, too, will be sensitive. If the foreskin is there and mobile, use it to stimulate the head — like a little jack-off sleeve!"
While you don't want to focus all of your attention on the head, it's definitely the best spot to help your partner have a good time.
3. The Shaft Can Be Important Too
Though the head is the most sensitive part of the penis, the shaft is also extremely important when it comes to giving a good hand job. A little secret? The place where the head connects to the shaft is a good spot to touch too.
"The place where the head connects to the shaft is often very sensitive, and you can make a ring with thumb and fore- or middle finger to circle around it," Queen says. "The shaft tends to like more pressure, and on some people, you can really squeeze — ask them what's comfortable."
If you're not sure what kind of pressure your partner likes, talking to them in the moment can be helpful. Don't be shy to slow down and check in to see what they're enjoying most.
4. Lube Up
If your partner is uncircumcised, they are not going to need lube as the foreskin acts as a sleeve for easy masturbation — think of it as a "lubrication included!" sticker on a hot-ticket item. However, if they're not, this is where lube becomes necessary, because no one wants a dry hand job. Plus, lube makes the job easier for you.
"Lube gives you more options for types of stimulation, speed, pressure, and so forth, because it minimizes friction," Queen says. "Too much friction (especially when the hand job goes on a while) can lead to sensitivity that might not feel optimal — even irritation. Now, some people are accustomed to, and enjoy, this — and if a person doesn't want to have lube used, that's OK. But a hand job with lube can be a real revelation to people who've never used any."
5. Use Both Hands & Do The Twist
If both of your hands don't fit on your partner's shaft when on top of each other, wrap your forefinger and thumb around the base of the shaft — forming a cock ring of sorts — and fondle the balls as your other hand does the stroking. You don't have to do this kind of thing for long, but it shows that you're not so one-dimensional (or one-handed) in your technique.
However, if working with two hands isn't your thing, you can always throw a curve ball by gently twisting your hand and wrist as you stroke downward (you might have seen this done in porn — my advice: use half of the aggression you see in porn. If your partner likes it, though, by all means, get rougher!). This little twist not only feels fantastic, but displays a talent that won't go unappreciated.
6. Hit The Right Spot(s)
If you want to give a good handy, you have to incorporate the balls. And by this I mean, you need to do more than jingling the scrotum like a bag of marbles. A nice way to work the balls is to place them in your palm and gently roll them around as if they're — not the greatest visual, but — a pair of eggs. The closer your partner gets to orgasm, try tugging on them as you would snatching a grape from a vine.
"Many people like stroking or fondling on their balls — don't squeeze too hard unless they guide you to do that," Queen says. "If you want, add a masturbation sleeve (choose one that's open at both ends) so you can stroke the shaft with one hand and focus on the head with the other; you can also explore vibration." Or you can use the masturbation sleeve so you can focus on the balls while stroking the shaft. Whatever feels good for the both of you.
7. Don't Just Assume You Can Incorporate Anal Play Without Asking
There's been a lot of talk in the media about anal play — that it makes orgasms that much better, and everyone should try it for that reason. Only... some of us don't want to. So don't assume that all people will be open to you touching their anuses or perineums (the space between the butt and balls). Always ask first.
8. Don't Go Fast — At Least Until The End
Working a penis like a Shake Weight doesn't feel as good as you might think it does. So my best advice for the hand job would be to grab it as you would a not-quite-ripe banana (yes, another fruit metaphor), and stroke upward and downward; in terms of vigor, try to model it on the way you like your own genitals stroked. But when your partner is about to come, this is when you can get your Shake Weight on and stroke that thing fast (if you want to); they'll come twice as hard if you increase your aggression after they give you the "I'm going to come" line of courtesy.
Experts:
Dr. Carol Queen, Good Vibrations staff sexologist and author of The Sex & Pleasure Book: Good Vibrations Guide to Great Sex for Everyone
This article was originally published on