How To Have A Clear-Out Without Breaking A Single Lockdown Rule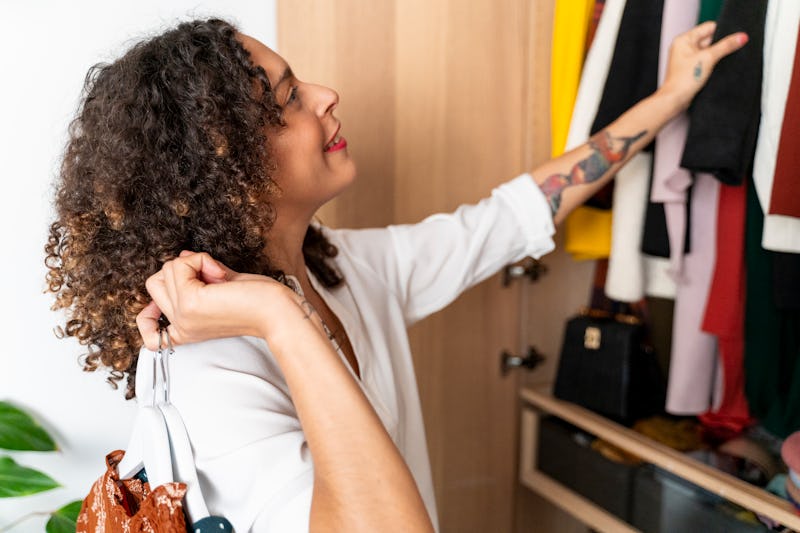 Westend61/Westend61/Getty Images
With more time spent at home these past few months, you may be increasingly aware of all the things that need sorting/fixing/ditching in your space. But necessary social distancing restrictions have made having a major declutter a more complicated process. Between the thousands of charity shops forced to close and newly-reopened recycling centres commanding mile-long queues, you may be wondering how to have a clear-out during lockdown.
While donating unwanted clothing may have been your first port of call, charity shops and recycling centres across the country have asked people to hold onto items until the lockdown has lifted. They've also politely asked people to stop dumping bags of unwanted clothing on their doorsteps and outside recycling banks.
Fortunately, there are other ways to organise your home until normal life resumes. If your harbouring has reached 'Monica's secret cupboard' levels, I've compiled eight ways to help organise your home during quarantine period. A 2009 University of California study found women who described their home as cluttered had higher levels of the stress hormone cortisol, meaning decluttering could help you feel more relaxed. And who doesn't need that rn? So pop on some Mrs Hinch marigolds and prepare for your new Marie Kondo-style decluttered life to "spark joy."
We only include products that have been independently selected by Bustle UK's editorial team. However, we may receive a portion of sales if you purchase a product through a link in this article.