How To Help Australia Wildfire Victims As The Blazes Continue To Burn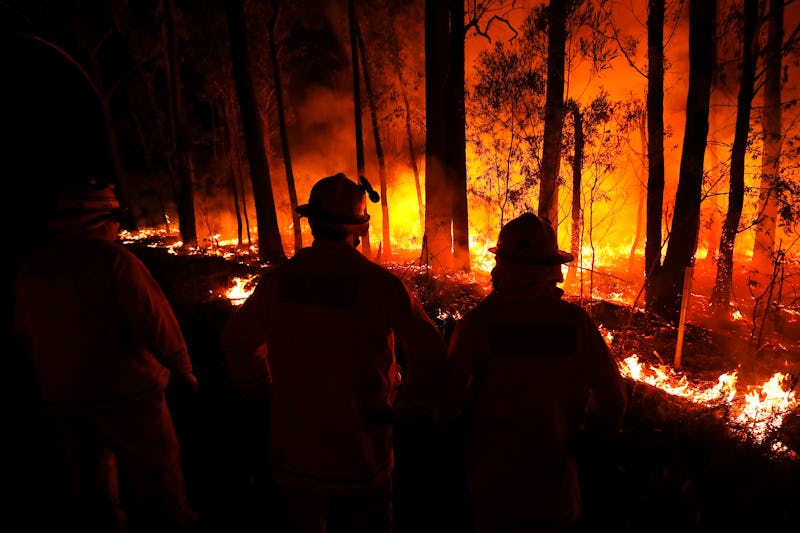 Darrian Traynor/Getty Images News/Getty Images
As we come off the high of the holidays here in the U.S., thousands of people and animals in Australia are struggling to stay safe amidst one of the worst wildfires the continent has experienced in decades. Lethal wildfires in Australia have been ravaging homes and wildlife since September, and unfortunately, they show no signs of stopping. Knowing how to help Australia's wildfire victims is more important now than ever, as January and February are shaping up to be some of the country's hottest months. And despite an all-hands-on-deck approach from firefighters in Australia (and firefighting help from other countries, including the United States), authorities are still struggling to keep the blazing fires under control.
The bush fire season in Australia has already been devastating. According to CNN, there have been at least 17 deaths reported so far as a result of the wildfires, and nearly a thousand houses have been destroyed in New South Wales alone (which is being hit particularly hard by the disaster, although the entire nation is affected). Whole towns have been decimated by the fires, and as a result, there's also hazardous air quality reports and major devastation to wild animal populations — including koalas, who have already lost around a third of their habitat in NSW, Australian Federal Environment Minister Sussan Ley told ABC's AM radio show on Dec. 27.
If you want to help make a difference for the victims of Australia's wildfires, there are lots of ways you can give your time and resources to offer some relief during this crisis. Check out a few ways you can help.