Here's How You Can Help Victims Of The Borderline Bar Shooting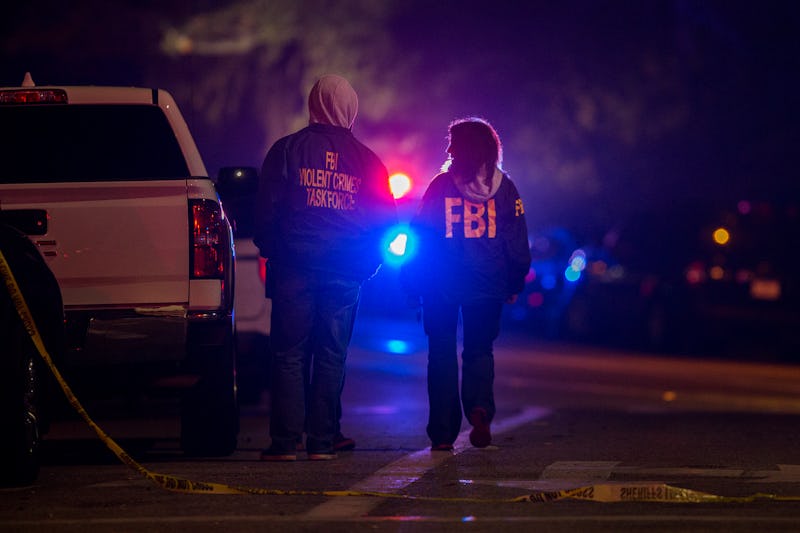 David McNew/Getty Images News/Getty Images
At least 12 people were killed on Wednesday night when a gunman opened fire at the Borderline Bar and Grill in Thousand Oaks, California. Officials said Thursday morning that multiple others were injured and the gunman was dead, according to The New York Times. There are various ways you can help the Thousand Oaks shooting victims, even from afar.
Most of those killed had not yet been identified early Thursday morning, but Sheriff Geoff Dean confirmed in a news conference that Ventura County Sgt. Ron Helus died after he was shot multiple times, per NBC News. He was reportedly one of the first officers inside the bar, which was full of students who were there for a college country night event. Helus was on the police force for 29 years, according to Dean.
"[He] gave his all, and tonight, as I told his wife, he died a hero," Dean said Thursday morning. "He went in to save lives, to save people."
While details continue to emerge, there are a few ways you can help if you feel drawn to do something — whether you live in the Southern California area or across the country.
Give To A Fundraiser For All The Victims
A GoFundMe was set up on Thursday for victims of the shooting. All the funds will go to the First Christian Church of Thousand Oaks to help the survivors and families with medical bills, funeral arrangements, time off from work, and other expenses. You can donate here.
"During this time of sorrow and despair we as a nation cannot imagine the pain you feel but want each family to know that you are not alone and we send our Love, Prayers and Condolences and we are here to help any way we can," the page reads.
Donate Blood
Thousand Oaks is just north of Los Angeles, so anyone in the LA area could donate blood to help injured victims. The Los Angeles County Sheriff's Department tweeted that a blood drive will be held on Thursday 10 a.m. to 2 p.m. local time at La Reina High School.
The Los Robles Regional Medical Center in Thousand Oaks is also accepting blood donations. You can find more info here.
Call Your Congressperson
Thousand Oaks is not an isolated incident; the Gun Violence Archive counts 307 mass shootings so far in 2018, including Wednesday's. In order for America to see major gun reform, Congress would need to act. Call your representatives and tell them what you want to see them do regarding gun control. You can find the contact info for your congressperson on Call My Congress, or call the U.S. Capitol Switchboard at (202) 224-3121 to be connected to your senator's office.
You can also reach out to your newly elected representatives who won't be in Washington until January to ask them to advocate for gun control from day one. The best way to reach them is through a campaign phone number or email you can usually find on their website.
Tell them you don't want the nation to endure another mass shooting like the one in Thousand Oaks.