How To Help Elderly Hurricane Irma Victims Stay Safe In These Disastrous Conditions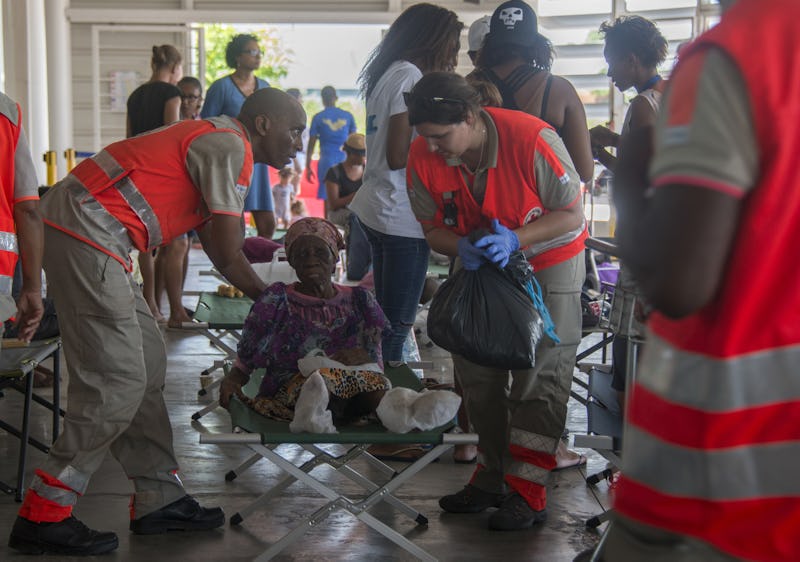 HELENE VALENZUELA/AFP/Getty Images
For the past week, Hurricane Irma ― which has since downgraded into a tropical storm, but has nonetheless had a devastating effect throughout its affected regions ― has been making its way through the state of Florida. It's left a lot of destruction in its wake, ravaging houses, forcing evacuations, and reportedly killing at least 23 people. At least six of those deaths were elderly residents of a nursing home in Hollywood, Florida, as well, which raises an essential question: how can you help elderly victims of Irma, who're some of the most vulnerable people caught in the storm and its wake?
According to WFLX, a local Fox affiliate for the greater Palm Beach area, five residents of the Rehabilitation Center at Hollywood Hills died due to a carbon monoxide leak that left the nursing facility without sufficient levels of oxygen. Three of the seniors reportedly died at the center, while two more died while en route to an area hospital for medical care.
Law enforcement authorities are reportedly investigating the situation for any evidence of criminal misconduct. While it's too early to say what that investigation will find, this much is clear: elderly people caught in the midst of natural disasters are uniquely vulnerable, and are wholly deserving of receiving some charity and care in the days, weeks, and months to come.
Make no mistake, provided you're following some basic rules of thumb for how to most effectively donate to relief efforts in the aftermath of Hurricane Irma, your charity towards Irma victims will have a beneficial effect. But if you're looking for ways to directly help Florida senior citizens affected by the storm, your best bet is likely to donate some money to help the rebuilding and recovery efforts in elder care and living facilities.
For example, there's currently a GoFundMe dedicated to repairing the Colony Cove senior citizen community in Ellenton, Florida, a residency for people 55 and older. There's also a GoFundMe being helmed by Senior Helpers, a senior care-oriented charity organization, which will ultimately be given to the American Red Cross.
There's also a GoFundMe for elderly residents of the Missouri Home Health and Therapy facility. The state of Missouri has also been affected with adverse conditions as a result of Hurricane Irma, and regardless of what state they might live in, elderly residents impacted by floods and adverse weather conditions deserve to be supported.
It's also worth considering whether you're ready and able to take a more active role in post-Irma recovery efforts, by donating not just your money, but your time and labor too. If so, organizations like Volunteer Florida can help you do so. Obviously, that's a pretty high level of dedication and active participation, so you shouldn't beat yourself up if it's just not feasible ― making a difference with your dollars is a perfectly suitable way to help, and in some cases it can be the best option from a practical standpoint.
It's also worth noting, for the purposes of future natural disasters, that preemptive charity and relief efforts can play a big part too, as well as donations to people already seeking refuge in shelters. For example, last week, WFLX reported that senior citizens staying at the John I. Leonard High School in Greenacres, Florida were in need of basic supplies like pillows and blankets, having been force to abandon their homes with little more than their clothing.
It'll be vital to keep an eye on other news stories about elderly victims of Irma, and related charities to benefit them, in the days, weeks, and months to come. Suffice to say the storm has had a hugely damaging impact on Florida and into surrounding states as well, and it's important to spare some time and some consideration for some of the most at-risk people affected by it.