18,000 Young Adults Will Be Homeless In The UK This Winter — Here's How You Can Help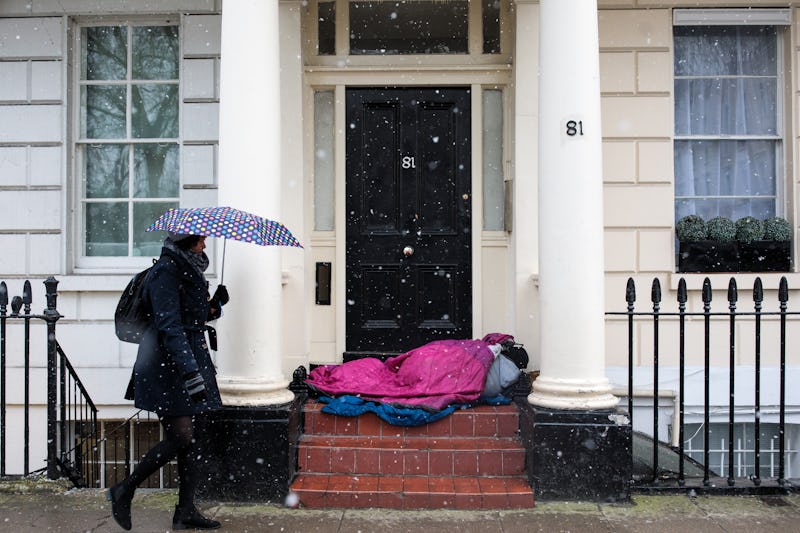 Jack Taylor/Getty Images News/Getty Images
Christmas is supposed to be a time spent with family, eating too much, drinking too much, and falling asleep on the sofa in front of the TV. But if you don't have a home to go to, Christmas can be one of the loneliest times of the year. Homeless charity Centrepoint is drawing attention to the shocking levels of youth homelessness in the UK and urging people to help make Christmas a special day for everyone. Luckily, if you're wondering how to help homeless young adults at Christmas, there are things you can do to help those less fortunate.
The Metro reports that the charity has just revealed new research which found that 18,000 young people aged between 16 and 25 could be homeless this Christmas. Centrepoint has dubbed November 30 as Bleak Friday to raise awareness of just how big the problem is during the festive period.
Young people often face homelessness through no fault of their own. Sometimes, they are forced to leave an unsafe home environment or are rejected by their families. Other times, they may have no family at all. Around 14 percent of the young people that Centrepoint helps are refugees who have travelled to the UK alone. Being homeless can cause any young person a whole host of problems from a lack of education or employment opportunities to a worsening of any pre-existing mental health issues and a complete lack of support to deal with this.
"For many, Christmas is a season to splurge with thousands enjoying the Black Friday deals, but for young homeless people it can be bleak, scary, and sometimes life-threatening," Centrepoint's CEO Seyi Obakin said in a statement. "While many of us are surrounded by friends and family, enjoying the festivities, it can be easy to forget that not everyone has the same support network or even a safe space to sleep."
According to Centrepoint, 40 percent of homeless adults have admitted noticing more young people on the streets in recent years. The charity found that youth homelessness rose by almost a third across England between 2016 and 2017 and that 93 percent of these youth felt that no one cared about them, Metro reports.
Centrepoint believes that the actual number of homeless youth could be even more than its research suggests as many find accommodation with strangers or spend their time sofa-surfing wherever possible, and are therefore not seen to be sleeping rough.
What's clear, however, is that thousands of young people across the UK are at risk of having nowhere to stay this Christmas. There are several ways for any of us to help combat this. The easiest way is to donate money. It doesn't have to be a lot; even a £5 donation can help Centrepoint provide essentials such as toothbrushes and clean bedsheets.
If you have a little more money to spare, you can sponsor a room for £12. This will allow Centrepoint to house an at-risk young person for a month, giving them somewhere safe to live and a chance at a brighter year in 2019. A £35 donation to the charity will help fund the teaching of life skills that could transform a young person's life and push them into the world of employment.
There are also several fundraising opportunities to get on board with. You can set up an event yourself or join one of Centrepoint's many charitable occasions. You can even raise money by pledging to sleep rough for a night. The charity is also always looking for volunteers willing to give up a small portion of their time.
Showering your family and friends with Christmas presents is all well and good, but there really is nothing better than knowing that you've done your part to help those less fortunate this December. Whether you'd like to give away your Christmas bonus or have an hour to spare each week, a little effort from all of us could really make a difference to someone's entire life.