Here's What You Can Do To Help Earthquake Victims In Mexico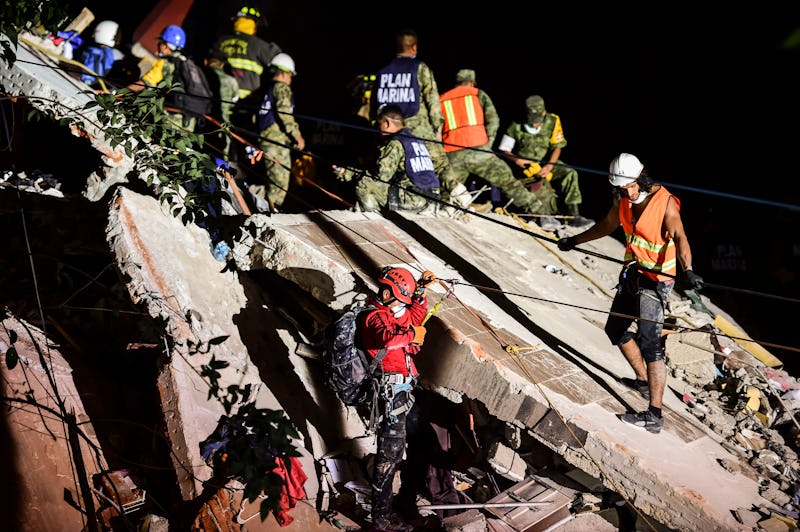 RONALDO SCHEMIDT/AFP/Getty Images
More than 200 people have died due to a massive earthquake that shook central Mexico on Tuesday. The 7.1 magnitude event that hit near Mexico City destroyed skyscrapers and entire neighborhoods, trapping hundreds or thousands of people underneath the rubble. The Mexican people are going to need support as they come back from this tragedy, and there's a lot you can do to be a part of the solution. Here's how you can help earthquake victims in Mexico, so that this disaster doesn't leave them with nothing.
As many people learned from the hurricanes that hit Texas, Florida, and the Caribbean over the last month, the best way to help is by donating money to local charities. Unfortunately, the situation down in Mexico (plus, for many, the language barrier) may make it difficult to find out which charities are the most reputable.
One great place to start is the Brigada de Rescate Topos, or just Los Topos. This disaster relief group was founded after the deadly 1985 earthquake in Mexico, which occurred 32 years to the day before this most recent one. Los Topos members are trained to go into collapsed buildings to rescue for survivors, and they'll need help securing their own food, water, and shelter in the coming weeks. To support their mission, you can route money directly to their bank account, or donate straight to their PayPal at donativos@brigada-rescate-topos.org.
Another dedicated local charity that could use your support right now is Project Paz, based in New York. The organization was started by a group of Mexican nationals who wanted to support Latinx children both in the United States and Latin America. Project Paz is working with the El Paso Community Foundation in Texas to get supplies on the ground to Mexico, and you can support them with a tax-deductible donation here.
Should you still feel like you want to do more, don't hesitate to go down to Mexico and volunteer if you can. Skilled and unskilled volunteers will be incredibly valuable, particularly if you speak Spanish. Maybe you've lived in Mexico and have contacts on the ground who can connect you with relief work, or perhaps you're already a Red Cross disaster volunteer. Make sure you're working through a verified organization if you do decide to head down and help, or otherwise you might be causing more harm than good.
Finally, be careful about what you spread on social media. If you can't verify the authenticity of the information, it could be harmful to share it with others. If you can't read Spanish, or you're unfamiliar with the communities impacted by the earthquake, consult with a friend or peer who might know more. See what might be helpful to promote and be cognizant of your own social networks — if you're living in the U.S., it's probably more helpful for you to retweet a donation link than directions to a local shelter in Mexico City.
If your first reaction to the news of this earthquake is indifference, it's understandable. After all, the United States has just been hit by several successive natural disasters and there are a lot of people here that need help too.
However, just because there's suffering amongst your own people doesn't mean you can ignore the suffering of others. There's no particular reason that the people affected by Harvey or Irma need your help more or less than the people caught in this earthquake, so it's up to you to respond to these disaster situations by giving of yourself as the situation demands.
The Mexican people have also suffered through multiple hurricanes and earthquakes in the last several weeks, and Americans should be standing in solidarity with them. These are two highly interconnected nations, both culturally and economically, and at a trying time like this, people need to lean on each other for support.
Read more on the Mexico earthquake:
There Was A Huge Earthquake In Mexico City & These Tweets Reveal The Chaos
Trump Said We "Will Be There" For Mexico City & Twitter Is So Confused
This Shocking Video From Mexico City Shows A Building Decimated In The Blink Of An Eye
"Pray For Mexico" Memes & Tributes You Can Share To Support Earthquake Victims