How To Help Organizations Affected By The Title X Bill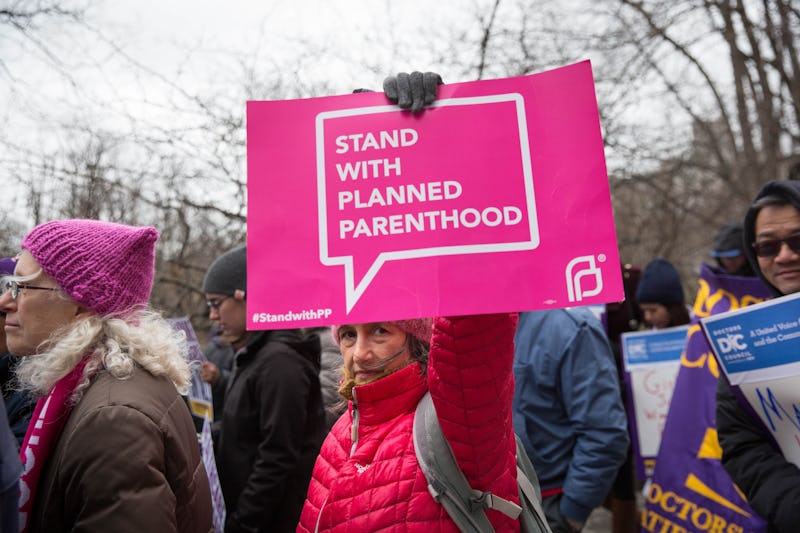 Kevin Hagen/Getty Images News/Getty Images
In his continued fight against Planned Parenthood, today Donald Trump signed a bill stripping Title X funds. This is a major win for Republicans and a huge blow to Planned Parenthood and organizations like it which rely on funding from Title X — which is why looking for ways to help Planned Parenthood and other organizations affected by the bill is so important. Access to basic, essential healthcare should be required, not optional.
While the Title X bill doesn't directly "defund" Planned Parenthood, it undoes a protection put in place by former President Obama. That protection prevented states from blocking health care centers from receiving Title X funding based on political reason (i.e. centers that provide abortion services). The bill Trump just signed revokes that protection, allowing states to decide how to allocate Title X funds. That means a state can decide not to give Title X funds to facilities like Planned Parenthood because those clinics provide abortions.
"Four million people depend on the Title X family planning program, and by signing this bill, President Trump disregards their health and well-being," said Dawn Laguens, Executive Vice President of Planned Parenthood Federation of America, in response to this new bill.
The signing of this bill has consequences beyond political showmanship. Not only does it solidify the Trump administration's fight against Planned Parenthood and legal abortion, it will impact the lives of women, people, and families whose health and well-being rely on these clinics.
If you want to stand in solidarity with those women, people, and families and against the measures Trump just took, here are seven ways you can help places like Planned Parenthood that are directly affected by Title X.