All The Ways You Can Donate To Planned Parenthood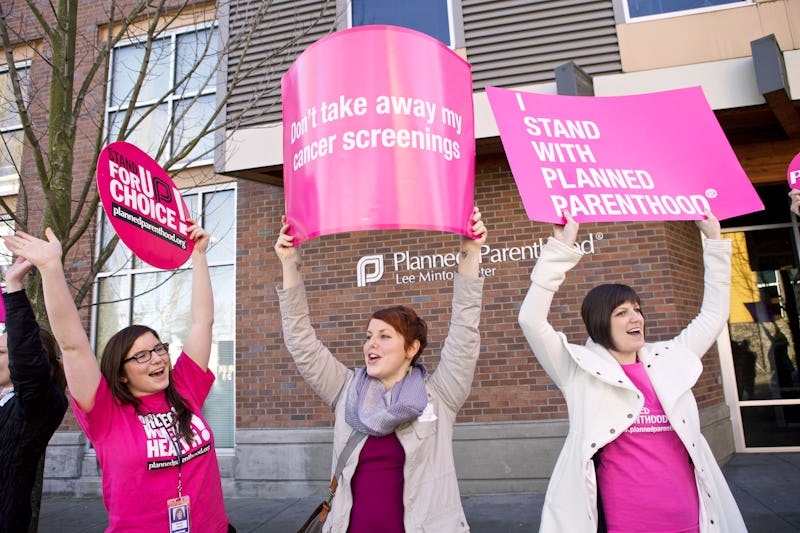 Stephen Brashear/Getty Images News/Getty Images
For over a century, Planned Parenthood has provided Americans with a host of healthcare services, saving lives and empowering people — especially women — to make choices about their own bodies. This is why learning how to donate to Planned Parenthood is more important now than ever — because the organization's federal funding is very much at risk right now. On Monday, the Republicans' "answer" to the Affordable Care Act — "Repeal and Replace" — was unveiled, including a provision that Planned Parenthood would lose all federal funding. What's more, Donald Trump made a pronouncement on Monday night that he would consider allowing funding to continue, if Planned Parenthood stopped providing abortions all together.
A reminder: abortion is a completely legal medical procedure.
Another reminder: The defunding of Planned Parenthood is a terrible idea.
Over 2.5 million people come through Planned Parenthood's doors each year, 80 percent of whom are seeking preventative care, rather than abortion services. Birth control counseling, pap smears, HPV vaccinations, mammograms, and HIV and STD tests are the most common procedures. $528 million in federal funding goes towards providing those services to people across the United States, no matter what.
To be clear: those federal funds do not go towards providing abortion services. Since 1976's Hyde Amendment, it's been illegal for federal funding to aid in terminating unwanted pregnancies, unless the pregnant person has been raped, is the victim of incest, or is in danger of dying.
Nope, what we're seeing is a widespread attempt to control women — particularly low income women, women of color, and LGBTQ women —genderqueer, non-binary, and gender nonconforming people, by limiting their access to basic healthcare services. What we're seeing is an attempt to villainize women for their sexuality. What we're seeing is the government turning bodies into battlegrounds.
As has been proven by centuries and centuries of useless deaths, there is no banning abortion; there's only outlawing safe ones. Because of increased access to preventative healthcare, as provided by Planned Parenthood, abortions are at their lowest numbers since Roe v. Wade.
For now, one of the most important things you can do is donate. Here are a number of ways to do that: