The One Thing You Can Do If You're Near Port Arthur Right Now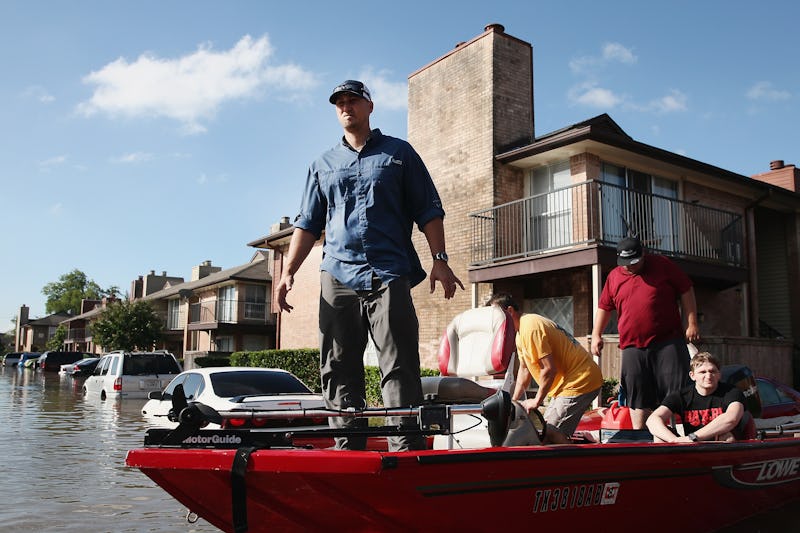 Scott Olson/Getty Images News/Getty Images
The terror of Harvey continues, with the storm descending on a fresh batch of Texas cities on Tuesday night. Harvey dumped 26 inches of rain over 24 hours on Beaumont and Port Arthur, coastal cities 90 miles east of Houston. Emergency services have been so inundated with calls for help that Port Arthur is asking anyone with a boat to help with rescue efforts in the city.
Port Arthur's mayor, Derrick Freeman, posted an update on Facebook Wednesday morning that painted a picture of the difficulties faced both by residents who were trapped, as well as the crews attempting to rescue them.
Our whole city is underwater right now but we are coming! If you called, we are coming. Please get to higher ground if you can, but please try stay out of attics.
Freeman added that first responders also had fires and lightning to contend with, which were slowing the rescue efforts.
So, as in other Texas cities days earlier, the Port Arthur city government put out a request on social media for anyone in the area with a boat to help with the rescue efforts. And many civilians heeded the call, and began using their own personal boats to search for those trapped in their homes by floodwaters. However, the danger isn't over.
If you're nearby and have a boat, FEMA has opened up a phone line for you to offer assistance, Port Arthur officials said. Call 1-800-621-3362.
Even with the extra hands making rescues, people were still having trouble getting through to 911 to even let rescuers know they were in need of help. That's where social media has proved to be a crucial asset in coordinating rescue efforts. People who were stranded have been posting their addresses on Twitter and Facebook in an attempt to find someone to help them escape.
Since 911 lines are inundated, this gives both official and volunteer crews direction on where they were needed. The city has also asked anyone trapped to hang a white towel, sheet or shirt outside, so rescuers could identify those in need.
When Port Arthur needs help most, its citizens and neighbors have been stepping up to the task — but they still might need help. It's uncertain how this storm will continue to affect the area, or how many more people are still awaiting assistance, but its undeniable that Port Arthur already has many selfless heroes to thank.