How To Help Puerto Rico After A 6.4 Magnitude Earthquake Struck The Island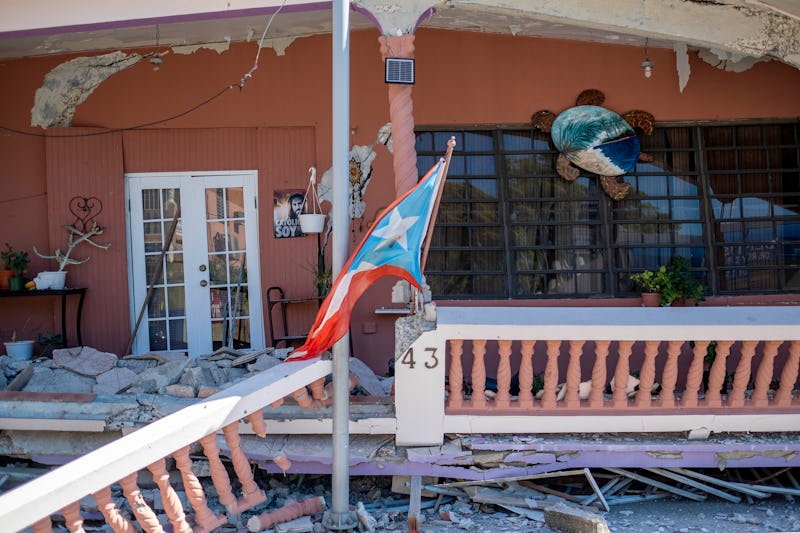 RICARDO ARDUENGO/AFP/Getty Images
On Jan. 7, the worst earthquake in Puerto Rico since 2014 struck the island around 4:30 a.m. The 6.4 magnitude quake was followed three hours later by a 6.0 magnitude aftershock, CBS News reports. As residents prepare for other possible tremors, it is important to work with local organizations to help Puerto Rico after the earthquake.
According to CNN, over a third of the island's utility customers had no water service following the quake, and much of the island temporarily lost power. Much of the power outages and damage is concentrated around Puerto Rico's southern coast, which was the epicenter of the quake. Mayita Meléndez, the mayor of Ponce on the island's southern coast, said that eight people had been reported injured and one 77-year-old man had been killed in the intense tremors, CBS reported. The 6.4 magnitude quake followed smaller seismic events that had been felt on the island since the last week of December.
Many Puerto Ricans on the island and in diaspora recalled the feeling immediately after September 2017's Hurricane María in interviews and Twitter posts. With the recovery from Hurricane María still ongoing on the island, relief efforts take on even greater importance.
Here are five ways you can help Puerto Rico recover from the most recent earthquake.