How You Can Help Texans Who Are Stuck On A Roof & Can't Get Through To 911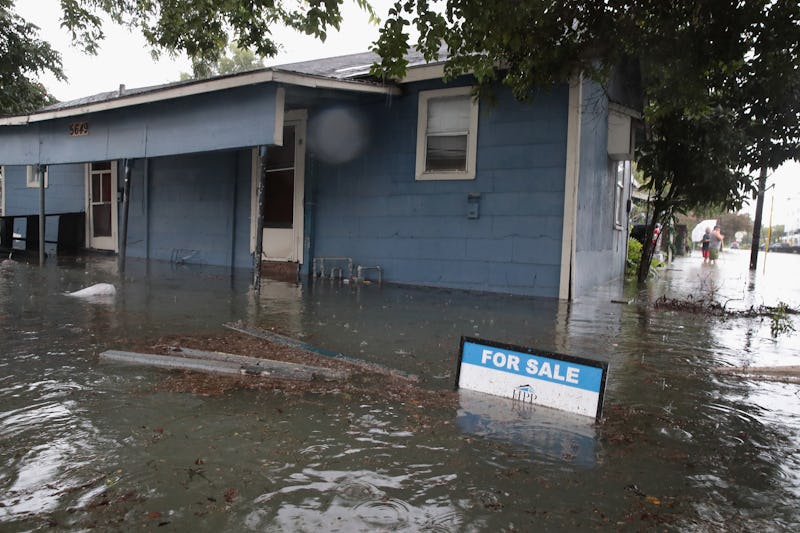 Scott Olson/Getty Images News/Getty Images
Thousands of people have lost their homes due to catastrophic flooding in Southeast Texas this weekend, and thousands more as still at risk of property damage and homelessness as the storm continues. Rooftop rescues have become so common that people are using an unorthodox method to try and get help, and you may see their rescue attempts as you scroll through your news feed. You actually might be able to help someone who's stuck on a roof due to flooding by sharing their post about it on social media.
People have been using Twitter and Facebook to let authorities know where urgent rescues are needed, in part because the city's emergency response services are so overloaded. According to Reuters, rescue crews had saved over 1,000 people by Sunday morning, and more rescues were imminent. A Facebook group entitled "Hurricane Harvey 2017 - Together We Will Make It; TOGETHER WE WILL REBUILD" garnered more than 70,000 members by Sunday.
One woman, Lorena Martinez, posted that 20 people were trapped inside a house on Houston's Southeast side. "Tried emergency service but not responding," Martinez said on the group page. "They're in the attic with ax on hand if necessary."
Trying to go through social media for emergency help might seem like a great plan, but Houston Police have asked citizens to continue calling 911 instead of reaching out on Twitter. "If you have a life-threatening emergency, 911 is the best way to capture your request and make sure it is properly dispatched," the HPD said through social media on Sunday. "If you need help leaving your home due to high water, but you are otherwise safe, you can call 311 or the HPD non-emergency number 713-884-3131."
Yet still, sharing images of these rooftop rescues that you see on Facebook may do some good. If you're in the area or see posts like this on Facebook, one of the best things you can do is spread awareness of the situation. Share the post with links to disaster groups and urge people to donate what they can. It may not make a rescue crew come faster, but doing so could inspire people to help out. The more people know about how bad the flooding is, the more resources they will be willing to provide to help.
Plus, officials say they're looking for people with boats and high-water vehicles to help with rescues. If you help make people's locations known, they could be able to assist.
Texas will need a lot of help in the coming days and weeks, but unless you're a trained emergency responder, there may not be much you can do. Just make sure you're out there on social media trying to get people to pay attention to how bad the damage is, and how much financial and material support will be required in the aftermath of this storm.