How To Help Those Affected By The Pittsburgh Synagogue Shooting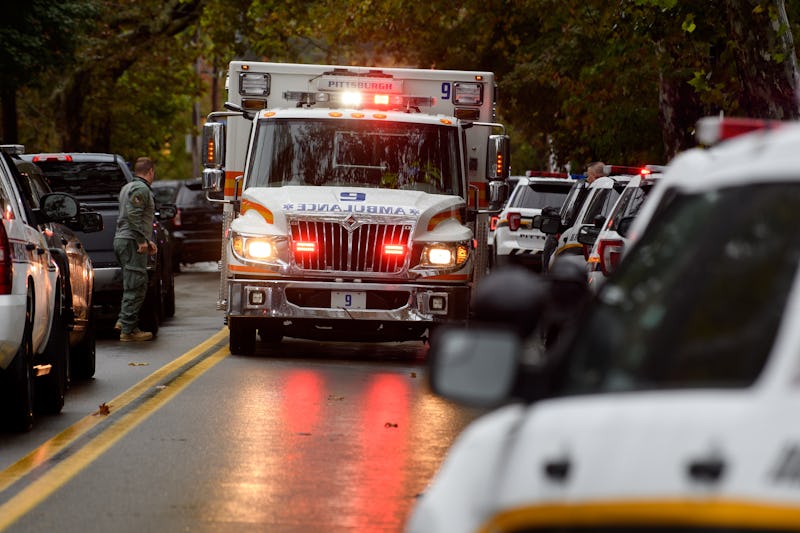 Jeff Swensen/Getty Images News/Getty Images
On Saturday morning, a man opened fire at a service just before 10 a.m. at the Tree of Life Or L'Simcha Congregation in Pittsburgh, Pennsylvania. According to police, there were multiple fatalities and injuries. Here's how to help the Tree of Life victims and congregation.
At least eight people were killed and at least six others injured in the attack, according to CBS News. The suspect is in custody.
Pittsburgh Public Safety Director Wendell Hissrich described the scene of the shooting as "one of the worst" to NBC News on Saturday. "It's a very horrific crime scene. One of the worst I've seen," Hissrich told NBC News. "It's very bad."
Pennsylvania Gov. Tom Wolf said the shooting was an "absolute tragedy" when he arrived at the scene. "These senseless acts of violence are not who we are as Americans," Wolf said in a statement to CBS News. "My thoughts right now are focused on the victims, their families and making sure law enforcement has every resource they need."
President Donald Trump also commented on the shooting, suggesting that armed guards could have helped. "If there was an armed guard inside the temple, they would have been able to stop him," Trump told reporters at Andrews Air Force Base, according to the Pittsburgh Post-Gazette.
A reporter asked Trump if the shooting meant it was time to re-evaluate gun laws. In reply, Trump said the shooting "has little to do with it," and repeated that armed guards could have "immediately" stopped a gunman.
Trump also suggested that the gunman should receive the death penalty. "When people do this, they should get the death penalty," Trump told reporters, according to CNN. "Anybody that does a thing like this to innocent people that are in temple or in church ... they should be suffering the ultimate price, they should pay the ultimate price."
Ivanka Trump also tweeted her support for victims on Saturday. Ivanka converted to Judaism before marrying her husband, Jared Kushner. "All good Americans stand with the Jewish people to oppose acts of terror and share the horror, disgust & outrage over the massacre in Pittsburgh. We must unite against hated & evil," Ivanka wrote on Twitter.
Here are ways you can help the Tree of Life synagogue and the victims.