How To Incorporate Friends Into Your Wedding Without Having A Bridal Party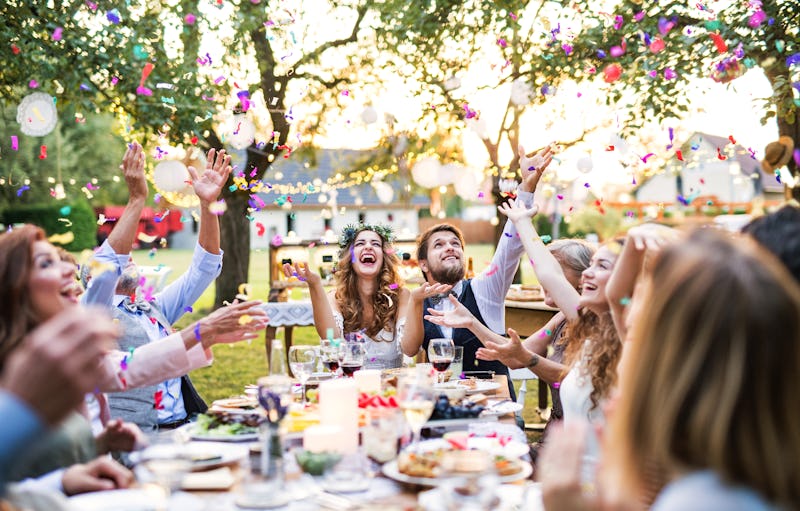 Shutterstock
Getting to celebrate your special day with the people you love most is one of the best parts about having a wedding. Traditionally, the couple will handpick a select few of their closest friends to be part of their wedding party. While it's fun to involve your friends in your big day, you don't need to have a wedding party in order to make that happen. In fact, experts say more and more couples are finding ways to incorporate their friends into their wedding without having a bridal party.
There are many reasons why people are choosing to opt out of having a bridal party. Some don't like the exclusivity of it, while others don't feel like the cost is necessary. As Sarah Chancey, wedding expert and founder of Chancey Charm, tells Bustle, "Asking friends to be a part of your big day without being a bridesmaid is an increasing trend we're seeing towards simplicity,"
Being part of a bridal party can get pretty pricey for your friends. According The Knot, bridesmaids are typically expected to cover their hotel and travel, their wedding ensemble, their share of throwing the bridal shower and bachelorette party, and of course, the gifts. On average, women who are part of a bridal party will spend almost $500, while men spend nearly $750. Cost alone can make someone decline being part of your wedding party.
So here are some ways to incorporate your friends into your wedding without having a bridal party, according to experts.