Here's How To Modify Exercises To Meet Your Fitness Level, According To A Personal Trainer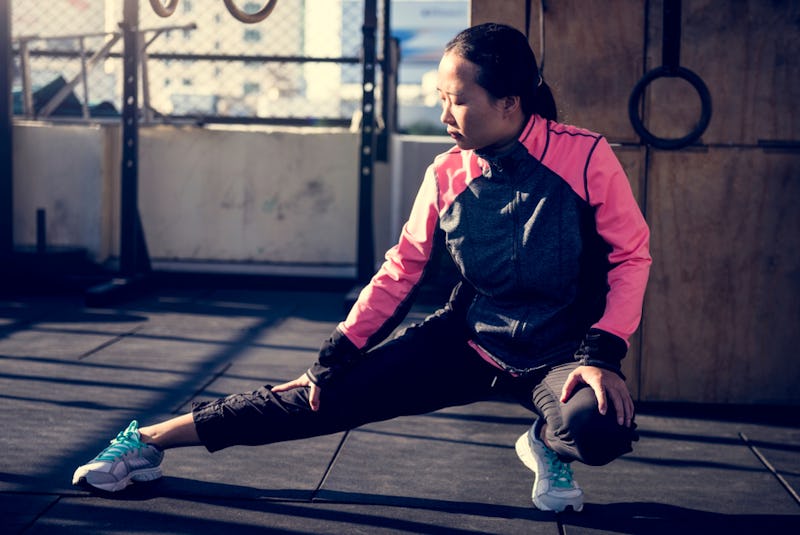 Rawpixel_Shutterstock
Whether you've taken a group fitness class or not, as a personal trainer I know that many people share the same hesitation about walking into that music-blasting room. Even seasoned fitness aficionados worry, upon walking into group fitness classes, that the exercises and their sequences won't be a good fit for an individual's body. And not all group fitness instructors are skilled at providing exercise modifications catered to your body's needs.
Whether that fear is rooted in beliefs that "everyone will be fitter than me" or "I'm scared I'll be expected to jump on my chronically painful knee" or something in between, I can assure you that everyone walks in there worried about something. Whether it's fear that you'll look silly or nerves about acting up an old injury, I promise you're not in there alone.
But fitness classes can be an absolute nightmare if you're not comfortable modifying exercises on your own or asking the instructor to help you out. Remember that it's an instructor's job to make fitness accessible to all bodies! Still, modifications often get overlooked by instructors or are falsely presented as "easier" options, which can understandably make you hesitate to ask for them. It's also understandable if anything from social anxiety to sheer shyness prevents you from asking your instructor for help (although, again, that's what they're there for!).
Wherever you are in your fitness journey and your relationship with your group fitness instructor, there are always exercise modifications you can make to ensure that your body is comfortable and getting the kind of workout you want and deserve. Here are eight common ones to keep in mind.