Here's How To Observe Memorial Day Respectfully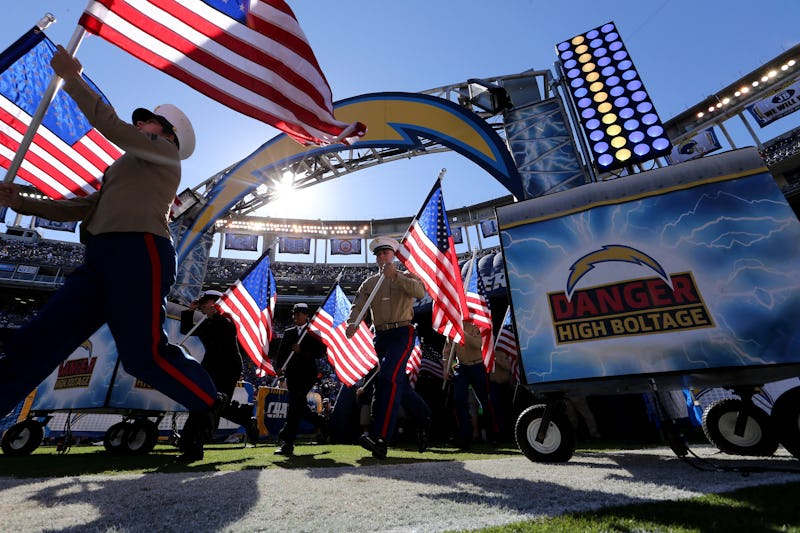 Sean M. Haffey/Getty Images Sport/Getty Images
We've hit the home stretch for the unofficial start of summer: Memorial Day. And while Memorial Day comes with some pretty sweet perks (think all-day pool parties, backyard barbecues, and the only excuse you need to wear white pants again (not that you need an excuse to wear all white. You do you), Memorial Day is really meant to honor the women and men who have served and protected us via the military. While there's nothing like celebrating the start of summer, it's important to remember what we're really celebrating: the sacrifice of our fellow Americans. And although the holiday often leaves us wondering what's open on Memorial Day, the break from our social and professional schedules offers the perfect excuse to slow down, clear the calendar, and pay our respects. But, at a time when Memorial Day has become more about barbecues and pool parties, it's not a bad idea to spend some time thinking about how to observe Memorial Day respectfully.
Whether you're celebrating at home, heading outside to enjoy the land, or are planning a trip to Washington D.C. to observe the holiday in all its patriotic glory, there are plenty of ways to enjoy the day without overlooking what it's really about. Need ideas? These are all fun, respectful, and guaranteed to keep the meaning for the holiday front and center.
Flash Your Flags
What better way to celebrate Memorial Day than by sporting some patriotic pride? Drape a few flag banners over your porch, fire escape, or front door, stick a few in your yard, or pass flags out to friends and neighbors.
Buy A Remembrance Poppy
Want to remember a loved one who fought in the war? Buy a remembrance poppy to so show your support. In the days leading up to the Memorial Day, Veterans of Foreign Wars collects donations for poppies to be displayed in remembrance. Proceeds go to support rehab and public service programs for veterans. You can also purchase a poppy and wear it as a sign of support, or hang a poppy wreath on your door.
Deliver Flowers
Know someone who's survived losing a partner, parent, sibling, friend, or child to the war? Consider having flowers delivered to them on Memorial Day as a sign of support. When you consider how easy it is to blow cash on the ingredients for a cooler full of Memorial Day drinks, you can look at the flower cost as money well spent.
Take A Moment
People around the world are working to restore Memorial Day to a day of reverence and respect, and the National Moment of Remembrance is one such effort. This Memorial Day, take a minute to participate in Congress' National Moment of Remembrance at 3 p.m. At 3 p.m., Americans across the U.S. are asked to stop and keep a moment of silence until 3:01 p.m. as an act of national unity to honor those who've served.
Make A Donation
Assimilating into daily life after coming back from combat is no easy task, but community centers, job-training programs, and other social programs geared toward veterans make the process a little easier. Many veteran rehabilitation programs rely heavily on public donations, so consider making a donation in the name of someone who's served.
Salute The Parade
Most cities host annual Memorial Day parades and invite decorated veterans to ride and wave to attendees. Make them feel honored by showing up and waving back as they pass. If you're feeling really patriotic, bring a sign or flag to wave, too.
Write A Thank You Note
Know someone who served? Take a minute to write and say you're thinking of them. It can be heartfelt if you feel like it, but it's OK to keep it light-hearted, too! A simple affirmation for all that they do and how glad you are that they're around should suffice.
Surround Yourself With Friends and Family
There's a reason why we're all given the day off on Memorial Day — and while it may or may not be to spend time with family and friends, I can't think of a better way to observe the holiday. If you're missing someone in particular, or if you're just grateful to have friends and loved ones around you, show 'em how much you care with a little quality time.