7 Self-Care Strategies To Try If You're Anxious About Election Day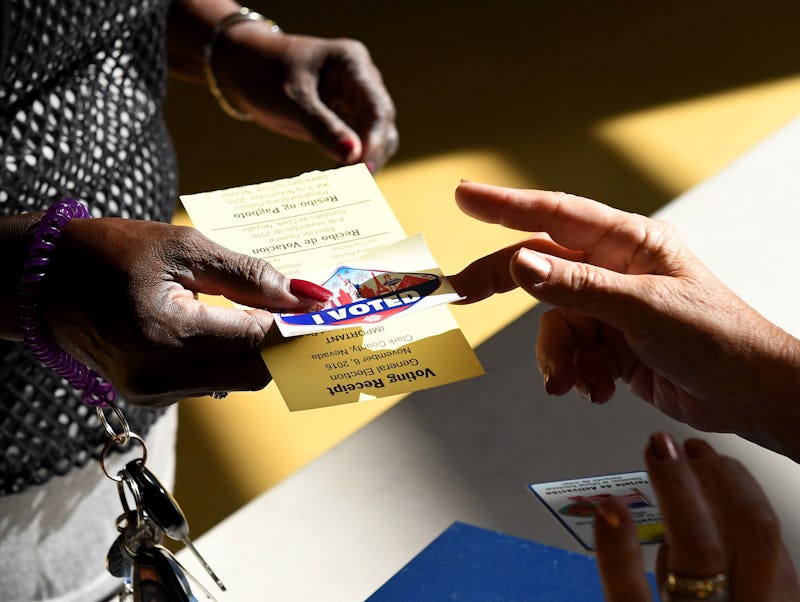 Ethan Miller/Getty Images News/Getty Images
If you're feeling Election Day-related stress or anxiety today, you're not alone. According to a recent survey by Everyday Health, people in the United States are feeling a lot of stress these days. Given that there are so many crucial issues on the line with today's midterm elections, from reproductive rights to immigration, many people might be feeling anxious today. Knowing how to practice self-care on Election Day if you're feeling anxious about the results can help make a major difference in how well you get through the midterms.
The elections can be frustrating for myriad reasons: You might wait an hour to cast your vote at 8 a.m., only to have to work all day while waiting for results to start coming in around 9. For people who want to vote but aren't able to, whether because of accessibility issues at their polling place, or because they live here permanently but aren't citizens, feelings of frustration and powerlessness can be magnified. While self-care isn't a panacea for managing anxiety, it can be helpful to relieve those feelings until the final results are called.
"Today's news cycle is a 27/7 event — factor in the midterm elections into an already heated, volatile, and emotionally charged political climate, and it's no wonder we're all one step away from losing it altogether," Maureen Connolly, editor in chief at Everyday Health tells Bustle, via email. "The reality is, there is no escaping the stress and anxiety of the elections, but there is a way to manage it through self-care," she says.
According to Everyday Health's report, levels of chronic stress in the United States are high overall. Survey participants ages 25 to 35 said they are especially stressed out, according to the survey, but researchers also uncovered another key finding: Despite how troubling some types of stressors may be, how you manage your stress has a lot to do with whether you end up with negative symptoms from it, notes Psychology Today. By using self-care techniques to manage stress-related anxiety, you can help turn the tables on the negative effects of stress. Here are seven self-care tips to help you get through Election Day, if you're feeling worried.