Snapchat Is Launching Tools To Help You Find Your Polling Place & Get Your Friends To Vote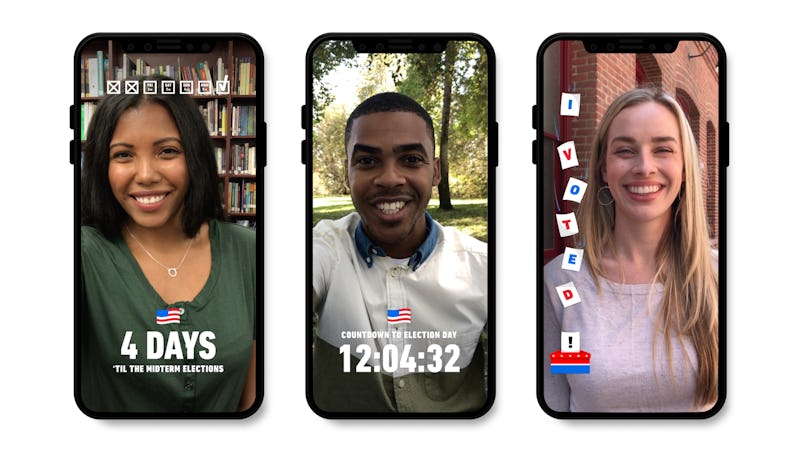 Courtesy of Snapchat
The 2018 midterm elections take place on Nov. 6, and no effort is being spared to get out the vote. Social media platform Snapchat, which helped over 400,000 people register to vote in October via their in-app registration tool, is now rolling out more Election Day tools and filters to help get people to the polls. With some surveys showing that only a third of people aged 18-29 are definitely planning to cast a vote in the midterms, as Vox reported, anything to make the process of voting easier will help.
Snapchat tells Bustle via email that, starting on Nov. 2, special nationwide filters will be available as we count down to Election Day. These filters will serve as fun reminders that it's time for you and your friends to vote soon, and are meant to be shared on your Snap story and with your followers. Snap Map will also be linked to Ballot Ready, so that users can glance over sample ballots, and figure out their voting plan ahead of Election Day.
On Election Day itself, Snapchat will send a nationwide snap to all U.S. users age 18 or over. This snap will link to Snapchat's voting initiative partner, Get To The Polls, which can help connect you to any information you need to cast your ballot on Nov. 6 — such as where to find your polling place.
Nationwide voting-themed filters and augmented reality face lenses include an 'I Voted' filter — a playful spin on the 'I Voted' sticker — and you can send these out to all your friends, too. Snap Map is also linking up to Get To The Polls, and once you use one of the voting filter or lenses, your Bitmoji avatar in Snap Map will feature you in a special election-themed costume. That way, your entire network can see that you're participating in the midterms.
Once voting is underway, Snapchat will also be live-streaming nationwide election results through its Discover platform starting at 6 p.m. ET on Nov. 6. There will be special episodes from Good Luck America's Peter Hamby, live coverage from The Washington Post, and streaming from local news stations in Florida, Georgia, and Texas. You'll get up-to-the minute updates as the election results roll in that night.
Per a previous report by Bustle, 37 percent of U.S. adults under age 30 said that they will "definitely" be voting in the upcoming midterm elections. If this number seems low to you, consider that it's actually up from 23 percent of adults who were polled in 2014. Sadly, 2014 midterm voter turnout was historically low, where less than one in five adults ages 18 to 24 voted, according to Snap. And while institutional barriers to voting are plentiful, between voter suppression efforts and inaccessible polling places, a number of people say that their primary reason for not voting is because it's too difficult or inconvenient.
Efforts like these from Snapchat can help change that. As you've likely heard, there is a lot at stake in this election, and every vote counts. If you are able to cast your vote, it's important to do so on Nov. 6.